Best Zoom Backgrounds: Fun & Professional zoom background
For a while now, businesses have been conducting most of their operations remotely. Even after the world has opened up post the pandemic.
Though the pandemic has supposedly ended and everyone is out in the open physically meeting one another, many businesses still have remote workers. This is due to the fear of the virus relapsing.
Thus the market for online meeting platforms is high.
Even though there are many other online meeting platforms, Microsoft Teams and Zoom are the only two platforms that have stayed on top of the league.
Working remotely has its own perks, as one can work from anywhere, there is no need to dress up, pick up Zoom calls from anywhere, and most importantly, everyone is social distancing from everyone.
But, working and meeting people online and being on video conferencing every day might get boring.
This is why many professionals and businesses have brought virtual backgrounds into play. The virtual background feature allows you to add different zoom meeting backgrounds at your convenience.
Why are Backgrounds Important for Zoom Video Conferencing?
Zoom virtual backgrounds, simply put, are image or gif backgrounds that allow you to morph your real background into something more professional, fun, or exciting.
Though Zoom had the option to add virtual backgrounds since 2016, it was not widely used till the start of the pandemic.
Even though you don't need to use Zoom backgrounds for video conferencing, it is always best to use them.
Why?
One, they make you look professional.
Two, they help your peers focus on you and what you speak about.
Thirdly, they help you clear out the mess in your background.
For example, imagine having to present a report to the top members of your company, but you are attending the Zoom meeting from your home terrace. You surely wouldn't want them to know that. Not only will it create a wrong impression for you, but it also might harm the presentation process.
Thus, having a Zoom background helps and creates a very professional output for you.
But Zoom backgrounds are not just used for serious and professional zoom meetings. There are many meetings where you can liven up the atmosphere by using some fun and free backgrounds for zoom.
It is mainly because a meeting often becomes boring, and the attendees tend to lose focus.
And changing virtual backgrounds also allows you to add a bit of life to the already dull pandemic life.
You can use Zoom backgrounds by having a green screen as your backdrop or just as they are for your Zoom meetings.
How to Choose Best Backgrounds for zoom?
Choosing a Zoom background is relatively easy.
Since a Zoom background for many is a source of individuality. While for some businesses, using a zoom meeting background is a way of promoting their brand. Thus, choosing the right Zoom background is necessary, and you have to be careful while picking them.
To choose a free Zoom background, all you need to do is go on Google and type free zoom backgrounds; there are several websites that have a vast collection of free zoom backgrounds that you can choose from.
There are also dedicated websites that provide you with the best zoom backgrounds for a particular topic, character, movie, or idea in which you want your Zoom background to be.
Also, setting up a Zoom background is as easy as a click.
All you need is to go to the settings tab on your Zoom app and click choose virtual background, and you get a plethora of free zoom backgrounds from Zoom, and you also have the option of uploading your favorite Zoom backgrounds for your next meeting. Check out some minimalist logo design ideas for your brand.
Embarrassed by your backdrop?
Get branded Zoom background designs at an affordable rate
How to make the best zoom backgrounds?
Though there are many free zoom backgrounds online, it isn't all times that you can use a free zoom background.
As there are times when you have to follow a few guidelines, especially when you are attending a Zoom meeting for a business.
If you notice, in many cases, many officials choose to download free zoom backgrounds for their Zoom meetings to either hide their actual location or look more professional or just have a moment of fun with some fun backgrounds.
In other cases, most businesses use a zoom backdrop with their company logo during video conferencing.
Personalized Zoom Background
For creating a personalized Zoom background, you can use free websites like Canva, where there are many free zoom background templates that you can choose from.
Or suppose you want to have a Zoom background, especially for your organization or business, with your brand logo and colors in it. In that case, you can get the help of professional design agencies like All Time Design to design your backgrounds for zoom.
These small additions actually help create a structure for Zoom meetings, as many times, businesses have found a few of their employees using extremely fancy virtual backgrounds for their Zoom meetings.
Thus, businesses have shifted to using professional zoom backgrounds to have a more professional approach.
But still, there are time's when meeting attendees use fun zoom background options to add some spark to the otherwise dull meeting. Let's find out why graphic design is important for businesses.
Top Professional zoom backgrounds
There are many free Zoom backgrounds that you can choose from for your Zoom calls. But only a few can be touted as the top or best zoom backgrounds.
Here we have listed the best zoom backgrounds and other Zoom backgrounds that work best for any Zoom meeting.
1. Branded Background
A branded virtual background is essentially jazzed with your business's logo, brand colors, and images that will reinforce your brand to your meeting attendees. This showcases your professionalism and how much your brand value is.
2. Office Background
An office background makes you look professional. You can use this type of background while interviewing candidates.
This background is a photo snippet of a scene from the famous American sitcom "The Office."
3. Inspiration Quotes Background
Do you want people to get inspired every time they join you in a Zoom call?
Zoom background with an inspirational quote can speak a lot about you. You can either customize a quote or pick up something by your favorite author or personality. This lets people understand what you stand for.
4. Instructional Background
There are times when getting all the team members to work and deliver projects on time can be overwhelming. This is especially true in the field of education, where educators have a hard time making students understand.
Having an instructional Zoom background allows you to share what you want your team members to know, understand and deliver. It can also work as a reminder to follow up on projects and assignments that they are working on.
You can also use an instructional background to state the meeting's agenda in your zoom sessions. Check out the guide about what is infographics and why it's important for businesses.
Top Home Office Zoom Background
Even though the pandemic is over, many people are working from home. Thus, there are times when there is a need for images that work as Zoom backgrounds that help create the best Zoom background for your Zoom meeting.
1. Cozy Home Zoom Background
Are you worried that your video call background is not clean or that the younger family members have created a messy room before your virtual meeting? Then a cozy home office zoom background is the right option for you.
You can choose a background that looks like the ultimate dream home office.
2. Conference Room Zoom background
Missing your office? Then choose this zoom background for your next meeting.
Meet your peers in the next Zoom session from the conference room that might confuse them into thinking of your actual location.
3. Control Room Zoom Background
Have you ever wanted to enter a control room? Or even better, NASA's?
If yes, then this is the perfect Zoom background for you. Because we all know that it is impossible to enter there. Thus, pick up this free zoom background that'll allow you to take your next call from the most sought-after place in the world.
This Zoom background also helps you hide your cluttered background during Zoom calls.
Clear out all the clutter in your background with just a click and get a clean and clear background.
4. Starship Enterprise Zoom Background
Star Trek fans would have a lot of fun using the Starship Enterprise interior as your Zoom background during video calls.
5. Photo Zoom Background
Zoom also has the option to add any images as your Zoom background for your Zoom video call.
These images can be either our personal images or images that we have downloaded from the websites offering free zoom background. Find the guide about, how to resize images in Photoshop.
Vacation Vibes Zoom Background
The lockdown made everyone want a vacation.
Constantly staying indoors took a toll on the mental health of many, leaving them wanting to escape to some scenic location away from the world.
But, the lockdown didn't allow us to go anywhere. So here are a few backgrounds for Zoom video calls that will take you out for a vacation.
1. Evergreen Forest Zoom Background
Are you sitting in the midst of a forest in zen or sitting by the edge of a gorgeous lake with the sun setting on the side or in a place with warmer weather under the shade of a large tree, or on an elevated platform sitting watching an animal crossing?
There are many places that we'd love to be instead of our homes.
This is not just a great vacation vibe background but also a good distraction from your concrete daily life.
2. Disney Magic World Zoom Background
Every one of us is a fan of Disney World. The magical world is filled with some of the best backgrounds for zoom.
Imagine sitting on the top of a Ferris wheel and watching the sunset, going to the Pixar Pier, going to the epcot's spaceship earth, or becoming a part of one of the famous Disney animated worlds.
Not only will these zoom backgrounds take us to the ethereal world of magic, but they are also some of the best zoom backgrounds, thanks to their creative and colorful presence.
3. Parisian Zoom Background
Paris has been known as the city of love and romance for the longest time. And why wouldn't it be? The city has everything that makes it breathtaking.
Even though we can't go there, we can surely bask in the Parisian vibe and take a zoom call standing under the Eiffel Tower or from a small cafe.
4. Museum Zoom Background
The quiet and quaint environment that a Museum offers cannot be found anywhere else. And how relaxing would it be to observe fine art and take virtual meetings from a Museum? But technically speaking, you can't take them there, so we have you sorted with some pleasant virtual backgrounds from Museums across the globe.
TV and Movie Zoom Backgrounds
Television shows and movies on OTT platforms were our only get away from the systematic and boring life we all had during the pandemic.
Be it the jet-setter lifestyle of reality shows like the Real Housewives of Beverly Hills or Keeping up With the Kardashians. Or the fighting for the iron throne in the dark fantasy drama Game of Thrones, handling messy office scenarios in The Office. Check out the finest guide for how to blur the background in Zoom.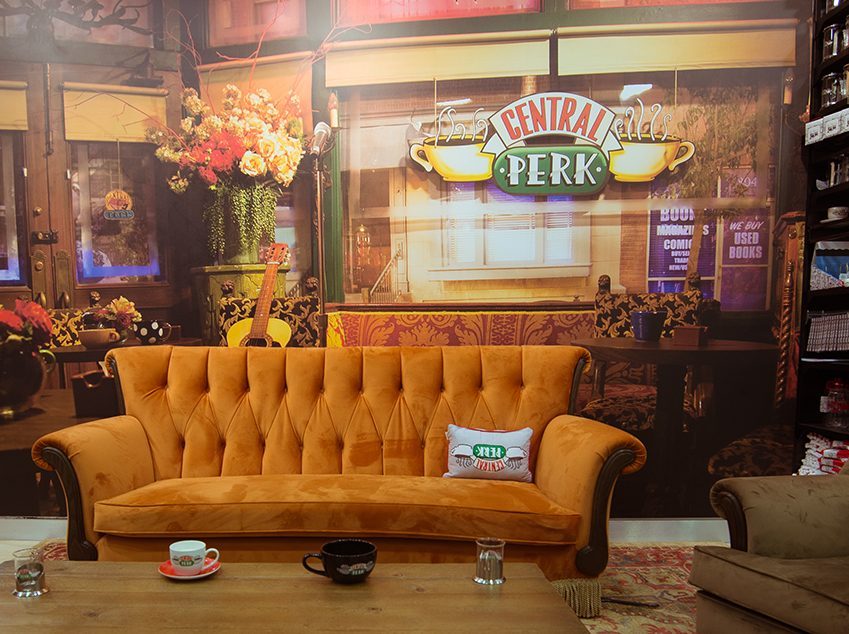 Or even watching wildlife shows like the animal crossing in the Great Migration or the endless list of favorite movies that we all have.
These famous movies or shows have many moments that are not just meme material but also perfect for Zoom backgrounds. The photos from these shows and movies are some of our favorites. Also, check out what is marketing brochure design.
Start your next zoom meeting with some exotic scenery, something that will have all your colleagues and peers in splits.
With a fun background, your zoom meetings will automatically turn into conversation sessions and fun instead of boring office talk.
And as per the usage of funny backgrounds for Zoom, we can clearly know that these are the most loved Zoom backgrounds and are also touted as the best Zoom backgrounds for their quick wit and laugh they bring whenever used.
Here are some of our favorite funny Zoom backgrounds that we've used repeatedly since the pandemic hit us all.
Are you overpaying for your creatives?
Find out from our cost calculator!
1. Animated – Zoom Cartoon Backgrounds
Yes, you can use short motion graphics as your Zoom background.
Imagine the thrill your students would feel during regular Zoom sessions when you randomly pop out some of their favorite animated characters or shows as your Zoom background.
There are many Zoom background images that both Disney and Pixar have released through their official Twitter account to be freely used for any virtual meeting.
For example, zoom backgrounds let you be a part of the world of Aladdin, Rapunzel, Finding Nemo, Toy Story, The Incredibles, and Wall. E or even the world of Pixar with every character. Get the most engagement among your audience with this social media image sizes guide.
2. Sitcom Zoom Background
Sitcoms make the best zoom backgrounds.
We've all gone back to watching our favorite sitcoms during the pandemic to while away our time. Be it Friends, Family Guy, Bob's Burgers, How I Met Your Mother, Modern Family, and many more.
Any of these sitcoms can easily give you a familiar feel with their backgrounds. You can also find the funny zoom background ideas.
Final Thoughts
In conclusion, there are many free zoom backgrounds that you can choose for your Zoom meetings. But the one thing you need to keep in mind before your next virtual meeting is whether the Zoom background is suitable for the Zoom calls.
Because you cannot use any random Zoom background for your zoom meetings as each meeting has its own agenda, and you need to follow that.
Thus while choosing backgrounds for Zoom, be it an animal background or conference room background, or image background, make sure that it is in line with the flow of the Zoom meetings they are going to be used for.
And suppose you feel that the photos or images of free zoom backgrounds online are not up to your mark, then for your next Zoom meeting. In that case, you can always come to design agencies like All Time Design, where we'll create the perfect Zoom background for you that will become a permanent list for your Zoom meetings.
---

April 18, 2022
10 min read
14 reads
---
Impress your customers with cutting-edge graphics!
---