Booklet Design Services – All Time Design
The global digitization of businesses has influenced how many companies operate and manage their marketing, advertising, and sales practices.
Despite the dominance of digital technology, many companies still opt for printed materials to market and advertise their products or service, one of which is the booklet design.
Booklets are sales, marketing, and advertising materials with lesser pages than books that businesses use to convey valuable information.
In this blog, we will be providing you with key insights on what a booklet is, the difference between booklets, catalogs, and brochures, and why should choose All Time Design for your booklet designs.
What is a Booklet Design?
A booklet is a smaller and shorter version of a book with a paper cover specially designed to provide valuable information about a brand.
A booklet could be a report, product marketing catalog, newsletters, brochures, portfolios, instruction manuals, recipe booklets, catalogs, or guides of not more than 48 pages.
Compared to books, booklet designs are a lot more attractive and appealing because of the amount of beautiful graphics, images, and fancy fonts that can be printed in different shapes, sizes, and colors.
Sales and marketing teams must collaborate to decide on the booklet design, type, and content structure to help improve their brand image and service quality.
Booklet vs. Catalog vs. Brochure design
Extensive research has shown that printed materials are effective marketing tools that can contribute to a business's growth and success regardless of the products or services they offer.
Catalogs
A catalog is a list of products or services that a company offers and is available for customers. Catalogs are designed to display a detailed list of everything a business has to offer or its product or service categories.
Most catalogs include pictures of the product, a short description of the product or service, and its price.
Brochures
A Brochure is a marketing tool that businesses use to share brief and short information about their business and products or services. It is usually a foldable paper document mostly used for promotional purposes. Brochures' design could come in form of a leaflet, template, or pamphlet.
Booklet
A booklet is a more detailed form of a company information document from 2 to 48 pages. Most businesses print out booklets to communicate some ideas or thoughts to their clients. They are mostly budget-friendly and are an integral part of the sales process.
Why use a Booklet?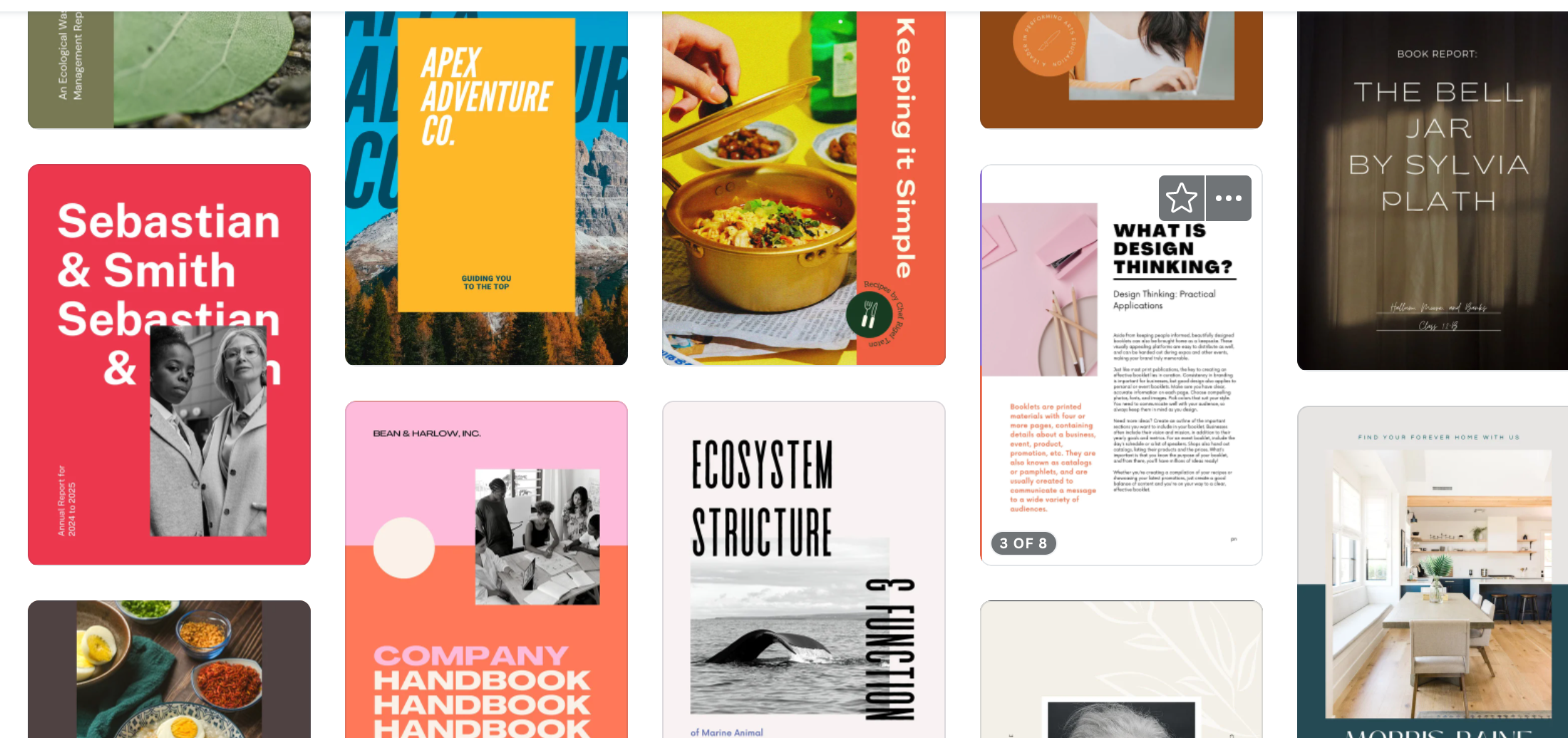 There are several reasons why you should consider using a booklet for your marketing and promotions.
They are easily noticeable
Booklet designs are usually attractive, with vibrant colors, style, and details that make them easily noticeable by the audience.
They are easy to design
It is very easy for businesses to design and print booklets with the numerous customizable templates available online. They contain information that helps a brand showcase its expertise and product/service package.
They are cost-effective
One of the best reasons why many businesses use booklets for marketing is because they are cost-effective. Designing and printing a booklet requires much lesser money than printed ads in magazines or newspapers.
They are better business documents
A booklet is a better business tool that a company can use to present key information about their company and products that potential customers can read to get all the information they want about the company.
Consider creating one to pass a meaningful message across to your clients.
They are an effective sales tool
A booklet is an effective tool that a sales team can use to connect and provide their prospective customers with valuable information about the company. You can use a booklet to fill in your clients about new developments in your company.
Booklet designs speak to your clients, help you meet their expectations as well influence them to have a positive impression of you.
Factors to consider before designing a Booklet
Just before you set out to design your booklet, there are a few factors that you must consider. They include;
Make a
Booklet
That
Captivates your Customers
Understand your customers
This is one of the most important things to note. You have to make sure that you study and have a good understanding of your customers to be fully aware of the information they need to choose your company.
Study your competitors
The next thing you want to make sure of is that you study your competitors to keep track of their activities to guide yours. You must also analyze how well their content is doing.
Select the right content
Next, you must ensure that you secure the right topic or subjects to write about in your booklet. You don't want to write about something people won't read or pay attention to.
Select the right graphic elements
For this, you must ensure that you use the right colors, fonts, business logo design, and the right business theme to make every page of your booklet attractive enough for your customers.
Use professional graphic design services
For your booklet design, you must ensure you have an in-house team of professional graphic designers or outsource to independent graphics design companies to create your booklets or other marketing projects.
All Time Design Services
Make a Booklet That
Captivates your Customers
All Time Design offers affordable and hassle-free graphic design services by a team of professional graphic designers. It takes care of most of the graphic design needs that are required by B2B and B2C businesses.
With a robust and intuitive platform, All Time Design enables you to access incredibly fast and professionally vetted creative designs to empower your marketing efforts.
All Time Design offers a wide range of creative services to clients such as booklets, brochures, presentation designs, product packaging designs, books and journals, flyers, branding, web design, infographics, product marketing designs, custom illustrations, apps, and website UI designs, presentation designs, motion graphics, and animation, and front-end development
Some of Alltime design's key feature includes unlimited revisions, Instant Access to Super Intuitive Platform, a money-back guarantee, dedicated support, dedicated designers, and an account manager.
The Key Elements of All Time Design
All Time Design has various features and elements that make it a suitable graphics design service option for B2B and B2C companies. They include;
All Time Design features
Some of the key features of All Time Design include;
Expert designers that deliver excellent works.
One flat rate – No extra or surprise fees.
A Super Intuitive Platform.
Unlimited requests + revisions – you can request a revision on the final product or project until you become satisfied.
21 days risk – free trial
Ownership of your files
How does it Work?
All Time Design works in three distinct steps. They include;
Step 1: Submit your projects.
Step 2: Designers start working on your project
Step 3: Download your designs
All Time Design has four main payment plans that could be paid across four timeframes – monthly, quarterly, half-yearly, and annually.
The monthly plan starts from $499 for the standard subscriber to $999 for the pro subscriber, $1,699 for premium subscribers, and $4,999 for the ultimate subscriber.
The quarterly plan starts from $474 for the standard subscriber to $949 for the pro subscriber, $1,614 for premium subscribers, and $4,749 for the ultimate subscriber.
The half-yearly plan starts from $449 for the standard subscriber to $899 for the pro subscriber, $1,529 for premium subscribers, and $4,499 for the ultimate subscriber.
The yearly plan starts from $424 for the standard subscriber to $849 for the pro subscriber, $1,444 for premium subscribers, and $4,249 for the ultimate subscriber.
Why choose All Time Design?
All Time design offers a wide range of some of the best design supports and features such as unlimited revisions and designs, access to professional designers, ownership of your design files, a 21-day risk-free trial, dedicated support, instant access to a super intuitive platform, 12 hours turnaround, dedicated Account Manager, designer, and creative director and real-time chat with your designer and many other.
While all these features are available for you to use, your subscription plan will determine which of the features you get access to. Some of our great work has been created for top brands like WWF, RedBull, ISUZU, and many more.
Overall, All Time design is a powerful design platform you should be using for your creative projects.
---

July 2, 2022
10 min read
44 reads
---
Impress your customers with cutting-edge graphics!
---