32 Famous Graphic Design Quotes to Get You Inspired in 2023
Graphic design is a field of visual communication that uses images, words, ideas, and other design elements to convey information to an audience, to evoke a feeling or response from people. Most graphic designers put in a lot of their creativity, innovation, and strong attention to detail to create graphic designs to communicate visually with people in a way that drives their actions.
A creative design career requires a lot of creative thinking and inspiration to design masterpieces. The ability to create exceptional designs with stunning and engaging visual designs that make a tremendous impact on business is an art, hence, it is not surprising that many designers get stuck in the process of graphic design. This is where graphic design quotes come to play.
Inspiration is a crucial part of the design process. A lot of times, designers start their design creation process with a creative idea, and similar visuals to draw inspiration from and motivation to get the work done. Graphic design quotes are a source of inspiration and wisdom that guides and motivates designers to experiment with new design techniques and helps users to view and appreciate graphic designs with a creative eye.
If you are struggling to find the best graphic designer quotes to keep your creative juices flowing and guide your design process, we have identified a comprehensive list of the best 30 visual design quotes from prominent figures in the design industry.
32 Famous Graphic Design Quotes To Inspire You
Graphic design quotes provide guidance and inspiration to find your way through the stormy waters of creativity. To get you inspired today, we have listed 32 famous graphic design quotes from icons that have set their marks in the contemporary design space.
Each of these quotes is a deep reflection of the trials, past roadblocks, and wins of iconic designers. Go on to read them and hopefully boost your creativity and inspire you to put in your best.
1. Milton Glaser
"There are three responses to a piece of design – yes, no, and WOW! Wow is the one to aim for." – Milton Glaser
Milton Glaser is a long-time prominent graphic designer and the co-founder of the New York Times. Some of his most remarkable works include the famous "I Love New York" logo, DC Comics' logo, Obama's 2009 campaign poster as well as the album covers for Aretha Franklin and Bob Dylan
2. Paul Rand
"Design can be art. Design can be aesthetics. Design is so simple, that's why it is so complicated." – Paul Rand
Paul Rand is a famous American Art director and graphic designer, well known for his corporate logo designs for some of the world's biggest brands such as IBM, UPS, Westinghouse, ABC, Morningstar, Inc., Enron, and NeXT.
He was one of the first American artists to adopt the Swiss Style of graphic design. His quotes identify simplicity as one of the key elements of a good design.
3. Susan Kare
"Good design's not about what medium you're working in. It's about thinking hard about what you want to do and what you have to work with before you start." – Susan Kare
Susan Kare is an American artist and graphic designer who was one of the very first pixel artists. She is best known for designing interface elements and typefaces for the first Apple Macintosh in 1983.
4. Paula Scher
"It's through mistakes that you actually grow. You have to get bad in order to get good." – Paula Scher
Paula Scher is a graphic designer, painter, and art educator from America. She served as the first female principal of the world-acclaimed New York design consultancy, Pentagram in 1991. Paula is a highly skilled professional graphic designer with a vast creative portfolio of design works including the iconic Windows 8 logo.
She addresses the importance of making mistakes and learning from them in this quote. if you are currently struggling to get past your previous mistake, this is one quote we believe you should get inspiration from to keep your head up high and keep making your mark.
5. Massimo Vignelli
"The life of a designer is a life of fight. Fight against the ugliness. Just like a doctor fights against a disease. For us, the visual disease is what we have around, and what we try to do is to cure it somehow with design." – Massimo Vignelli
Massimo Vignelli was a famous Italian graphic designer best known for completing a wide variety of design masterpieces such as the American Airlines logo, subway map of the city of New York, kitchenware, and many other designs.
6. Stefan Sagmeister
"You can have an art experience in front of a Rembrandt… or in front of a piece of graphic design." – Stefan Sagmeister
Stefan Sagmeister is a New-York Based graphic designer, storyteller, and typographer who was best known for his designing album covers, posters, and books. He set up his company in 1993 to create designs for the music industry.
After this, he has gone ahead to design album covers for The Rolling Stones, Pat Metheny, Lou Reed, OK Go, David Byrne, and Aerosmith
7. David Carson
"Graphic design will save the world right after rock and roll does." – David Carson
David Carson is an American graphic designer and an art director whose uncommon design style transformed the scope and practice of visual communication in the 199os.
Nicknamed the 'Godfather of grunge', Carson introduced unique and rough layouts, altered textures, layered backgrounds, and innovative typography to the design field. He majorly drew his inspiration from underground rock culture which was mostly about changing the scope of traditional graphic design.
8. Bob Gill
"I've never had a problem with a dumb client. There is no such thing as a bad client. Part of our job is to do good work and get the client to accept it." – Bob Gill
Bob Gill was a famous American illustrator and graphic designer known for his groundbreaking use of visual puns. He worked as an illustrator for top magazines such as Esquire, Fortune, and Glamour.
9. Marian Bantjes
"But I find that for myself, without exception, the more I deal with the work as something that is my own, as something that is personal, the more successful it is." – Marian Bantjes
Marian Bantjes is a Canadian graphic designer, illustrator, typographer, artist, and writer best known for her detailed and visually appealing vector art, custom lettering, patterning, super engaging handwork, and decorative style.
Although she describes her work as graphic art, her works are known to have an underlying structure and formality that shapes their fluid and organic nature.
10. Charles Eames
"The role of a designer is that of a very good, thoughtful host anticipating the needs of his guests." – Charles Eames
Charles Eames was an American graphic designer, architect, and filmmaker who went into a professional partnership with his spouse, Ray Kaiser Eames, to contribute significantly to the field of architecture, furniture design, photographic arts, manufacturing, and industrial design.
11. Joe Sparano
"Design is content with intent. Content without intent is noise. Intent without content is decoration." – Joe Sparano
Joe Sparano is a graphic designer and professor in the School of Art and Design at the University of Washington and Charles Wright Academy. According to his quotes, the lack of content in a design makes it decorative rather than purposeful.
12. Chip Kidd
"If you can properly define the problem, then you've already defined the solution as well." – Chip Kidd
Chip Kidd is an American renowned graphic designer and associate art director at Alfred A. Knopf. He is best known for the T-Rex image that he designed for Jurassic Park and his unique book cover designs.
13. Michael Bierut
"If you do good work for good clients, it will lead to other good work for other good clients. If you do bad work for bad clients, it will lead to other bad work for other bad clients." – Michael Bierut
Michael Bierut is a graphic designer, design critic, and educator well known for his logo design for Hillary Clinton's 2016 presidential campaign, Saks 5th Avenue, New York City parking signs, Billboard and Verizon. He has been a partner at Pentagram since 1990.
14. Frank Chimero
"Good design is all about making other designers feel like idiots because that idea wasn't theirs." – Frank Chimero
Frank Chimero is a graphic designer and creative director with over 20 years of experience in brand, product design, and creative direction. He is best known for designing the Windows Media Player interface when he was only 17 years old.
His clients include some of the biggest companies in the world such as Facebook, Microsoft, and Starbucks among others.
15. Petrula Vrontikis
"Practice safe design; Use a concept." – Petrula Vrontikis
Petrula Vrontikis is a professor of graphic design and professional practice at ArtCenter College of Design, a LinkedIn online educator, and a creative director at Vrontikis Design Office – a full-service graphic communication design firm in Los Angeles.
For over 20 years, she has been a leading voice in graphic design and design education her work has appeared in over 100 books and publications.
16. Kate Moross
"The key to great ideas is not having them, it is executing them. And great ideas come from problems. As designers we call problems, briefs and we call reactions to problems, concepts." – Kate Moross
Kate "Aries" Moross is an English graphic designer, illustrator, artist, and art director based in London, United Kingdom. She is one of the young and successful graphic designers recognized for her typographic illustrations.
She attained a prominent position in the world of design at the age of 26 and currently works as an art director for Studio Moross. Her designs are known for their freeform lettering and a distinct pattern with three-sided shapes and illegible typography.
17. Jessica Walsh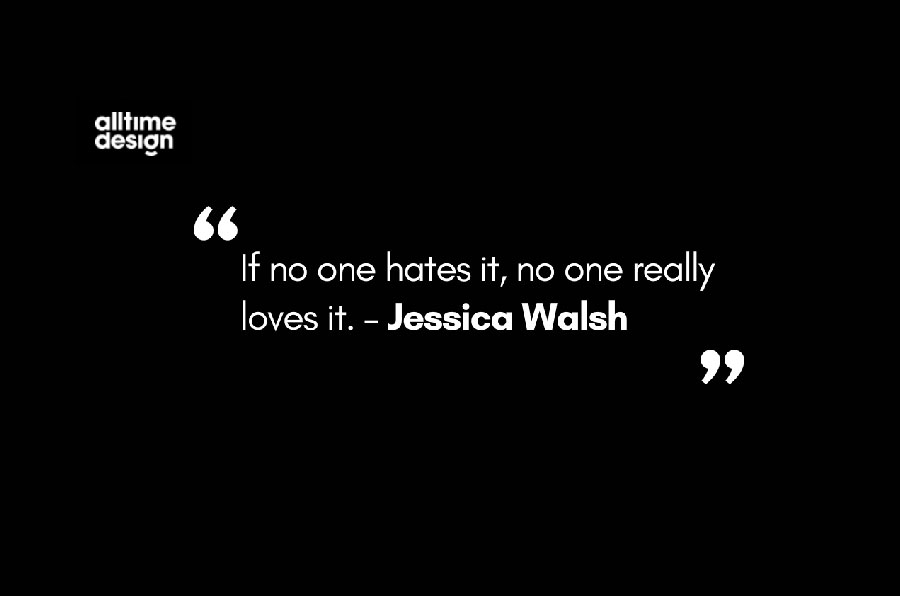 "If no one hates it, no one really loves it." – Jessica Walsh
Jessica Walsh is an American graphic designer, illustrator, art director, educator, and partner at the New York-based design studio, Sagmeister & Walsh. She is the founder of the creative agency "&Walsh" and has won numerous awards from the Art Director's Club, Print, and Graphis and Type Director's Club for creative designs.
Walsh is best known for merging handcraft, photography, and painting with digital design. Her design focuses on branding, website design, art illustrations, and typography.
18. Neville Brody
"Digital design is like painting, except the paint never dries." – Neville Brody
Neville Brody is an English graphic designer, typographer, and art director best known for his work in the Arena magazine, the Face magazine and for designing music record covers for punk bands such as The Bongos, 23 Skidoo, Clock DVA, Cabaret Voltaire, and Depeche Mode.
His work as an art director at The Face and Arena Magazine in the 1980s brought him to the limelight. Brody also designed many popular typefaces such as FF Gothic, FF Harlem, Arcadia, Industria, Insignia, FF Blur, and FF pop. He is the founding editor of the digital magazine FUSE and is a partner of FontShop International in Berlin and FontWorks in London.
19. Saul Bass
"I want to make beautiful things, even if nobody cares, as opposed to ugly things. That's my intent." – Saul Bass
Saul Bass was an American graphic designer and Oscar-winning filmmaker best known for his use of simple, geometric shapes and symbolism. He used hand-drawn shapes and types to design motion-picture title sequences, film posters, and corporate logos.
Bass was also popular for using single dominant stand-alone images to deliver a powerful message. He greatly influenced the graphic design community and film industry.
20. Jessica Hische
"To be a good artist / letterer / designer / guitar player, it takes practice. A lot of it. More than you can even fathom when you're starting out." – Jessica Hische
Jessica Nicole Hische renowned American lettering artist, illustrator, type designer, and author. She is the author of eight books and was one of the first new generations of letterers whose creative works and contributions have played a huge role in the present-day flourishing of the lettering arts. Jessica is an award-winning lettering artist and a New York Times best-selling children's book author.
21. April Greiman
"I like to step into areas where I am afraid. Fear is a sign that I am going in the right direction." – April Greiman
April Greiman is an American graphic designer and artist highly recognized for being one of the first designers to embrace and use computer technology as a design tool in the 1980s and ushered in the American "New Wave" design style adapted from Europe in the latest 70s and early 80s.
April currently teaches at the Woodbury University, School of Architecture as an art instructor and also at the Southern California Institute of Architecture. She was awarded a Gold Medal for lifetime achievement for her inestimable contribution to the American graphic design landscape.
22. Muriel Cooper
"Information is only useful when it can be understood." – Muriel Cooper
Muriel Cooper was a graphic designer, book designer, digital designer, researcher, and educator who spent most of her career at MIT. She was the first design director of MIT Press and designed the iconic MIT Press colophon or logo. She also instilled the Bauhaus-influenced design style into many of the MIT publications.
23. Herbert Lubalin
"You can do a good ad without good typography, but you can't do a great ad without good typography." – Herbert Lubalin
Herbert Lubalin was an American graphic designer and typographer popularly knowns as the "father of conceptual typography." He was highly recognized for introducing excessive typography into print advertising.
During his career, he collaborated with Ralph Ginzburg to design three of Ginzburg's magazines: Eros, Fact, and Avant Garde. He created postage stamps, and typography as well as magazines, and composed with the American social reality.
24. Lindon Leader
"I strive for two things in design: simplicity and clarity. Great design is born of those two things." – Lindon Leader
Lindon Leader is a great graphic designer highly recognized for designing the legendary FedEx logo with the secret arrow. He has earned immense recognition worldwide over his thirty-year career in corporate identity mainly for his two-word design philosophy: simplicity and clarity.
Leader received the 5th Annual Tribeca Disruptive Innovation Award in New York City in 2014 and was named a fellow of the Disruptor Foundation afterward. He built his strategic design consultancy, Leader Creative, in Park City, Utah in 2001 and he has continued to serve the design needs of his clients from around the world since then.
25. Peter Saville
"Creative people have to believe in the value of their work. If you don't have any belief, then you can't give anything — designing is an act of giving, and a belief in the value of the work fuels the desire to express something. It's important to know what your values are and to take care of them." – Peter Saville
Peter Andrew Saville is an English graphic designer and art director who was best known for his album cover artwork for Factory Records. Regarded as the UK's most famous graphic designer. In 2004, he worked as the creative director of the city of Manchester and designed the home shirt for the English football team in 2010.
26. Seymour Chwast
"I read once about the concepts of a lateral idea and the vertical idea. If you dig a hole and it's in the wrong place, digging it deeper isn't going to help. The lateral idea is when you skip over and dig someplace else." — Seymour Chwast.
Seymour Chwast is an American graphic designer, illustrator, and type designer popular known as "the left-handed designer." He is best known for his commercial artwork including posts, food packaging, magazine covers, and publicity art. His designs were well-known for his distinctive style of illustration
27. Juan Carlos Pagan
"Be genuinely curious about things. It's a great habit to cultivate. It will pay off in dividends." — Juan Carlos Pagan.
Juan Carlos Pagan is a New York-based designer, typographer, and creative director highly recognized for his remarkable achievement in design, typography, type design, and lettering.
He was honored for his work by The Type Directors Club, Communication Arts, The ADC, One Show, Graphis, Cannes Lions, Clios, Fastco, and Print Magazine among others. Juan is currently the founding partner and Executive Creative Director of Sunday Afternoon.
28. Morag Myerscough
"It is important how color responds to light. There is nothing better than to see an amazing color in the right environment; it can change your whole mood." — Morag Myerscough.
Morag Myerscough is a London-based illustrator and visual artist whose work includes creating installations and immersive spatial artworks that transform places and amazing community and public interaction. Her artworks are highly characterized by an engaging boldness and creating specific, local responses to each distinct audience.
29. Malika Favre
"I am a very logical person and I like things to be there for a reason. I believe that out of structure comes freedom. Setting rules makes it more interesting and it triggers something when people look at the images." — Malika Favre.
Malika Favre is a French illustrator and graphic artist based in Barcelona. Her bold, minimal style of design that combines pop art and Op art using positive/negative space and color makes her one of the most sought-after graphic artists in Europe.
30. Robert L. Peters
"Design creates culture. Culture shapes values. Values determine the future." – Robert L. Peters
Robert L. Peters is a Canadian graphic designer, artist, educator, author, organizer, activist, conservationist, pacifist, humanist, and generalist. For 38 years, he has been the principal of Circle, a design consultancy he co-founded in Winnipeg, Canada.
In addition to that, he has actively been involved in design education, writing, speaking, advocacy, and professional development for most of my career
31. Daniel Mall
"Technology over technique produces emotionless design." – Daniel Mall
Daniel Mall is a creative director, designer, founder, and entrepreneur from Philadelphia, US. He ran SuperFriendly, a design systems consultancy for over a decade and is actively involved in creating better opportunities for other designers.
32. Ayse Birsel
"Design is a learn­ing exper­i­ence. So my agenda is to fig­ure out what I want to learn next." — Ayse Birsel.
Ayse Birsel is an industrial designer and author who is one of Fast Company's most creative people in 2017.
She is best known for her design work with Herman Miller and has created award-winning products and systems for Fortune 100 and 500 companies such as Toyota, Colgate-Palmolive, Herman Miller, GE, Amazon, IKEA, The Scan Foundation, and Staples. Ayse is also the co-founder of the award-winning design and innovation studio, Birsel + Seck.
Conclusion
The above design quotes are a deep reflection of the challenges that these great designers have faced in their career and shares some insights on how they solved every one of these trials.
While these do not in any way tell you the kinds of problems you could face later in life, they can surely prepare you to face your future challenges head-on to achieve your goals.
Do you need a great design for your brand?
Our creative designers at All Time Design can help you design just about anything you need in a jiffy!
---

December 28, 2022
10 min read
10 reads
---
Impress your customers with cutting-edge graphics!
---