How to Design a Billboard – A Comprehensive Guide
Pictures speak a thousand words and that's why billboards have remained a major advertising tool for all types of organizations and companies.
However, it's no easy task to design billboards.
In this article, we'll give you top-notch tips for creating effective eye-catching billboard ads, including digital and traditional billboards. We'll also show you what you must do to ace your billboard design.
Why do billboard ads matter?
In this age of growing digital marketing, you may think traditional ads are no longer useful. But billboards remain an essential marketing tool. You'll find them in high-traffic areas such as highways, cities, and large intersection areas where they can be seen by the higher number of traffic. Because of their sizes, billboards are hard to miss.
Each year, over 35 billion dollars is spent on out-of-the-home advertising and 62% of that goes to billboards. Those numbers are high because billboards serve indispensable purposes to small and big businesses.
Although hard to track, when you imagine the number of people who commute a busy highway or intersection, you will have an idea of how many impressions your billboard campaign can get in a day.
Statistics on billboard
1. 71% of Americans consciously view a billboard message while driving and, of that percentage, many visit the event or restaurant advertised
2. 37% report looking at a billboard most of the time they pass one
3 .58% learned about an event or restaurant they want to go to because of the billboard influence
4. 56% of Americans talked with others about a funny billboard they saw
5. 26% noted a phone number on a billboard
6 28% noted a website address on a billboard
New age billboard: Digital billboard advertising
The billboard for the new generation is the digital billboard. Digital billboards have made billboard advertising more efficient and efficient for advertisers who need to revise their message more frequently.
Unlike the traditional physical, printed billboard ads that show only one advert for weeks (or months) at a time, digital billboards allow multiple advertisers to share a single board at once.
Usually, these sorts of billboards are found in slower-traffic areas where drivers or pedestrians can see a variety of ads in one place in quick succession.
Interestingly, digital billboards can include videos, countdown timers, live social media posts, live traffic, weather displays, score displays, and other rotating messages that fit current events and push sales in a specific direction.
Billboard design tips
Identify your target audience
Before you get to the dewing board for your billboard design, you need to identify your primary target audience. Although a large number of people from different walks of life will your billboard ad not all of them will resonate with your message.
Identifying your ideal audience will help you structure your message in a way that your customers immediately feel connected to your brand.
For example, the billboard ad below uses its language to appeal to an audience that wants to be picker and healthier with their choice of healthcare provider.
Get your story right
If your billboard is on the side of a highway where people will be speeding through, you'll be leaving no impression if your design has no story. To get a hold of your story, think about the one thing you want people to remember if they looked at it for 5 seconds or less.
Do you want them to remember your product image when next they visit the store? Do you want them to visit your website? Do you want them to purchase your product immediately after they pull off at the next exit?
Your billboard should tell people how your business will solve their problem or fulfill a need.
Most people often remember how your message made them feel before they remember the actual text. So, putting the key message in a story helps you sell a feeling and gives your billboard meaning.
In the billboard example above, the outdoor equipment company, Toro, deploys its surroundings to tell a powerful story. Viewers will feel as though the company's product, a cordless trimmer, was used to trim what would seem like a difficult area to reach.
Keep it short, sweet, and safe
The average viewer of your billboard only has 5 to 10 seconds to view your billboard design, read the text, and understand the message. So, you have to keep the message short. Incredibly short!
We recommend that you shoot for a maximum of seven words which include the logo, tagline, and contact information. Just ensure you prioritize the most crucial information so your billboard serves its purpose without coming off as illegible or overwhelming.
Tips for nailing texts in your billboard design
Stick to one message or idea: the key to achieving brevity in your billboard design is to stick to one idea. This idea should be the most striking and important message that a mobile audience would be interested in.
Make the text large: outdoor advertising designs need to be simple, legible, and easy to comprehend. Ideally, traditional or digital billboards should be legible from 500 feet away. So, you want to avoid cursive fonts that could be hard to comprehend from the distance.
Use bold, non-serif fonts: simple fonts like serif fonts have the best readability and they help to make your texts stand out. Usually, you want to avoid ornate fonts, italics, or serifs because lines break up at 500 feet or optically fade. Also ensure the font color contrast well with the background image.
Be family-friendly: your billboard ads will be seen by commuters of different ages, so you want to use appropriate content and keep your message appealing,
Avoid fine print that could be unreadable.
Localize the message: you want to ensure that your advertisement is tailored to the specific city, state, or area where the billboard stands. An emotional touch or a shoutout to the city shows the audience that the brand loves what they already love. Check out examples from Grinch. It targets New Yorkers and deftly uses descriptions that align with the demographic.
Simplicity
The key purpose of your billboard ad is functionality. As such legibility and simplicity are important.
Simplicity means keeping the design legible, minimizing the design elements, and avoiding elements that are complex to comprehend. It is only when people easily understand your massage can your billboard be effective.
Be loud
Your billboard design has to have a resounding design. For such a big-sized layout, you want to be everything but meek. Make sure everything in the design screams for attention. Make a bold statement with your billboard. The louder the design, the higher the chance of grabbing attention.
Protip: white spaces aren't as captivating in billboards as in other design materials. Make your fonts, logo, and image big enough.
Be colorful
Use bright colors and aim for high color contrast to increase readability. Contrasting colors help to improve the retention of your message. To make the most of your design, you should use a simple background that doesn't interfere with the copy or image.
For digital displays, you should use only RGB color files as you would for a website, TV, or computer monitor.
Protip: Avoid white backgrounds as they would wash out and compete with the remainder of your design.
Use high-quality images
Whether you're working with print or digital billboard designs, you want to prevent the impact of your images from being affected by pixelation. So, you want to make sure the images and photos in your billboard designs are in high resolution.
Protip: Stick to one large image or photo. Also, choose to make a small object large rather than make a large object small. For example, making a watch bigger would make a more dramatic impact than making a building smaller.
We also recommend using a single focal image and keeping the visual elements a maximum of three – the logo, headline, and focal image.
Include a call to action
The purpose of any advertisement is to drive potential customers to take an action. This action may be as simple as reaching out to you. This call to action must be obvious in the ad. It could be to follow a web address.
For example, it could be vanity phone numbers that urge viewers to reach out to you.
The billboard copy can also double as the CTA like in the example below:
However, the best way to nail your call to action is to create urgency as in this digital billboard example below.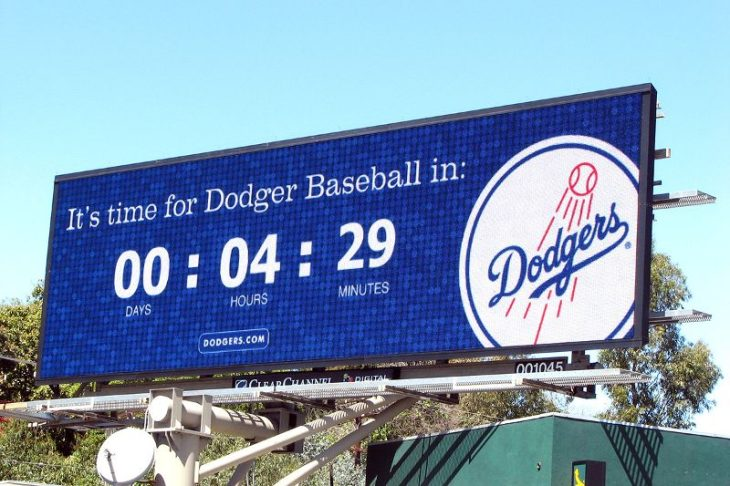 Make it interactive or dramatic
While traditional ads offer you the chance to intrigue your audience with creativity, digital ads offer your the opportunity to engage your audience.
For instance, you can play with billboard dimensions to create a more striking design. The example below shows an effective billboard ad design that makes the billboard dramatic with animated steam. Not only does this captivates the audience, but it also appeals to multisensory organs.
Also, this ad from Coca-cola gives prospective customers a taste of the advertised product.
However, while traditional billboards are mostly placed on the highway, digital billboards are more flexible. You can place them in different places from malls to airports, and street lamps, allowing customers to engage with your brand on the go. This is a great way to enhance the memorability of your ads as well as increase brand awareness. Check out some billboard design ideas.
Test your idea
After designing your billboard, you need to ascertain its effectiveness. An excellent test is to show your design to someone from a distance for only 5 seconds. If they feel puzzled, then you need to go back to the drawing board.
Consider the location and surrounding elements
Location plays a critical role in determining the success of billboard adverts. For billboard advertising to succeed, you need to position them in the right location. According to Airdoor, 74% of drivers consciously notice billboards and 48% of them take time to read.
Places where you can place your billboard ad
Near schools
Near office buildings
Near bus stops and train stations
Near hotels and other commercial establishments
Just off the highway/freeway
However, you have to do due diligence before choosing a location as it has a huge impact on the way your billboard is seen and perceived by the audience.
Check out this example below. The billboard in front "Where's daddy?" appears to be answered by the billboard below, "a gentlemen's club."
Also, consider both design and how the location can affect it. A seemingly flawless design can turn sour quickly if you don't consider the elements surrounding it.
Look at the example below. The underwear ad on a public bus is ruined because the designers didn't consider how it might be affected. You don't want to make this same mistake.
In contrast, here are billboards that use the surrounding details to their advantage.
Rayban creatively takes advantage of the sun to pass a stunning message to pedestrians or commuters who might be taking shade while waiting for a bus.
The rules of Billboard designs
All content in your billboard design is reviewed by a billboard advertising service provider before it is eligible to appear before the public. Your design will only be approved if it satisfies the following criteria:
Content
No nudity, profanity, innuendos, graphic violence, personal attacks, or hate speech.
Doesn't advertise illegal goods or services.
Has legitimate and functioning website domains.
No false claims or inflammatory statements.
No footnotes, disclaimers, or ambiguities of any kind.
Includes a logo, brand name, and/or URL
Doesn't contain negative ads targeted at a person, event, or business.
No QR or TExt codes to avoid distracting drivers.
Clearly states if it's a political ad and avoid potentially controversial designs.
If you're advertising music, add an "explicit content" tag on the ad.
Ready to create your own billboard design?
Employ professional design services from All Time Design. Our graphics design experts have the experience and technical abilities to create an outstanding billboard that pulls in profit.
Interestingly, we create the best design for you at affordable prices. So, you don't need to worry about overboard budgets and hidden charges.
Book a demo today!
---

October 14, 2022
10 min read
15 reads
---
Impress your customers with cutting-edge graphics!
---