Top 20 Modern Typographers to Look Out for in 2023
Typography is all around us from the books we read to blogs, magazines, billboards, posters, infographics, street signs, product branding/packaging, and so on.
Beyond just being texts, the aesthetics of typography can evoke emotion and creatively impact the visual appearance of a design when expressed artistically and innovatively.
In simple terms, typography refers to the style or appearance of a text – it is the process of working with text. Virtually, everyone who works with text when creating documents or other school or work projects is involved in typography.
However, the creative talent, skills, and experience that some professionals – typography artists – put into designing texts to make them visually appealing and aesthetically pleasing add more value to texts to make typography art what it is today. These artists have revolutionized the scope and practice of typography in this modern times.
To help you understand who these individuals are, what makes them unique, and why you should start following them, we have listed the top 20 typography artists we are extremely proud of.
What is Typography?
Typography design is the visual art form or technique of arranging text or type in a readable, legible, and visually appealing manner. It is an integral element of design that determines how a typeface or text will be arranged in various combinations of font, size, and spacing.
If you are very conversant with graphic design, you would know that text is one of the important elements of a design. While you might think typography in design is just the text, it looks at the way the text is creatively designed and positioned to make the design look attractive and readable.
Essentially, the typography you choose for your design and the way it works or blends with the layout, grid, or color scheme of your design can make or break a design. This is not something that can be handled by amateurs, which is why the next sector explains in detail what a typographic designer is.
Who is a Typographic Artist?
A typographer or typographic artist is a person who designs the visual form and arrangement of type to make written words more legible, readable, and aesthetically appealing to look at. They are responsible for creating a font or defining the point size, kerning, and other characteristics of a typeface.
Also known as typesetters, typographic designers, art directors, manga artists, or typeface designers. These professionals arrange words, letters, numbers, and symbols for publication, display, or distribution.
A talented typographer makes alphabets and words that make up a book, magazine, newspaper, or poster look exciting and meaningful at the same time. They create the text layout and decide how text and images will appear.
Top 20 Modern Typography Artists To Follow in 2023
Alexis Persani is a 3D artist, illustrator, typographer, and graphic designer who specializes in creating 3D letters and alphabet. A year ago, she designed 26 futuristic letters that were published on Fubiz.
Her project titled Creative Alphabet is a series of illustrations that contains the letters of alphabets or letters with various textures and influences by working 3D and illustration. Her letters are raised to sculpture status in wood, metal, or neon.
Lex Wilson is a British designer who specializes in 3D typography. He focuses on semantics, visual cues, and symbolism in freehand using traditional tools.
He combines rain-eye tricks, forced perspective, rendering of light, and models of 3D objects to create engaging pieces that resist immediate comprehension. He often digitizes his creative 3D typography for editorial, publishing, and print production.
Sabeena Karnik is a paper illustrator and typographer who uses sliced pieces of colorful paper to construct letters, words, and phrases by hand. Her paper letter designs are dynamic and tactical and use bright colors to elevate the typography design with a joyful flair.
She publishes her paper artworks for some of the biggest companies such as Google, Adobe, Instagram, Disney publishing worldwide, Tanishq, etc.
Peter Strain is a Belfast-based award-winning illustrator and animator whose creative works are inspired by music, film as well as cultural, social, and political issues. He is also known to address his subjects with a highly distinctive style with creative custom lettering, striking imagery, and a lot of humor.
Peter's work creatively combines illustrations and lettering. His corporate clients include The Washington Post, The New Yorker, Harry Potter, Empire, ADIDAS, TIME magazine, High Life Magazine, Unilever, MOJO, Fox Sports, The Ulster Hall, BBC, The Guardian, University of Ulster, and Sony
Pae White is an American multimedia visual artist who currently lives and works between Sonoma County and Los Angeles, California. Her creative artworks originate from material experimentation – a visual design approach that combines high-tech and artisanal craft to create ephemeral objects and quotidian subjects.
White is well known for her unique portrayal of nature and mundane objects through her creations of suspended mobile. Her creative works include sculpture, furniture, architecture, graphic design, painting, and site-specific installations. She mostly uses smoke, color, time, moonlight, bugs, and clip art to inspire her "exploration of the neglected, the forgotten, the spaces between things."
Paula Scher is an American graphic designer, painter, and art educator who was highly regarded as one of the most influential graphic designers in the world. Her iconic combination of pop culture and fine art in her artworks earned her the title "master conjurer of the instantly familiar." She served as the first female principal at Pentagram.
In the 1990s, Paula began painting colorful typographic maps of the world showcasing countries, continents, islands, oceans, cities, streets, and neighborhoods. These map paintings were said to be a reaction against information overload and a constant stream of news that presented reality in a deceptively authoritative way.
Nicola Yeoman is a London-based visual artist and set designer whose work focuses on creating bold, graphic, and delicately fragile elaborate, ethereal installations. Her creative work explores the use of countless materials such as top hats, ripped-up floorboards, birds, shirts, doilies, paper, etc.
Nicolis is famous for working on a broad range of projects such as her artwork & installations as well as still-life styling and set design. She plays around with vintage points and light to create temporary installations that appear flat and three-dimensional with every day and abandoned objects in unexpected locations.
Ralph Ueltzhoeffer is a German conceptual sculptor, photographer, and internationally acclaimed installation artist who currently lives and works in London and Berlin.
His work "No Clean State" features text portraits, word and image merge of people and celebrities in a creative and visually appealing manner.
The portraits have faces of the celebrities – people that have been made popular by the media – inscribed with the text of their biographies. He has done text portraits for pop and fashion stars such as Madonna, Kate Moss, Serge Gainsbourg, Dalai Lama, and much more.
Farhad Moshiri is an Iranian visual artist whose work focuses on pop art dialect with a subtle, subversive socio-political commentary. He draws his design inspirations equally from Eastern and Western traditions.
Farhad is best known for his technically exquisite, conceptually rich paintings. He mostly goes by the word "A picture is worth a thousand words and a word is a thousand pictures."
He creates artwork that portrays western consumerism, popular culture, and Middle Eastern artifacts and vessels to call out cultural divides just as much as it is to break them down.
Fred Eerdekens is an internationally claim visual artist working and living in Hasselt, Belgium. Known as one of the most acclaimed contemporary artists in Belgium, he examines the numerous ways visual images relate to language.
Fred manipulates light and shadow using a range of materials such as copper and nickel to produce texts. His artworks include texts and phrases sculpted by Eerdekens in his signature mediums calling attention to vagueness and ambiguity in language.
He has his works featured in the collections of the Museum for Modern and Contemporary Art (Museion) of Bolzano, Italy, the Museum of Contemporary Art Antwerp and the Caldic Collection in Boijmans Van Beuningen Museum.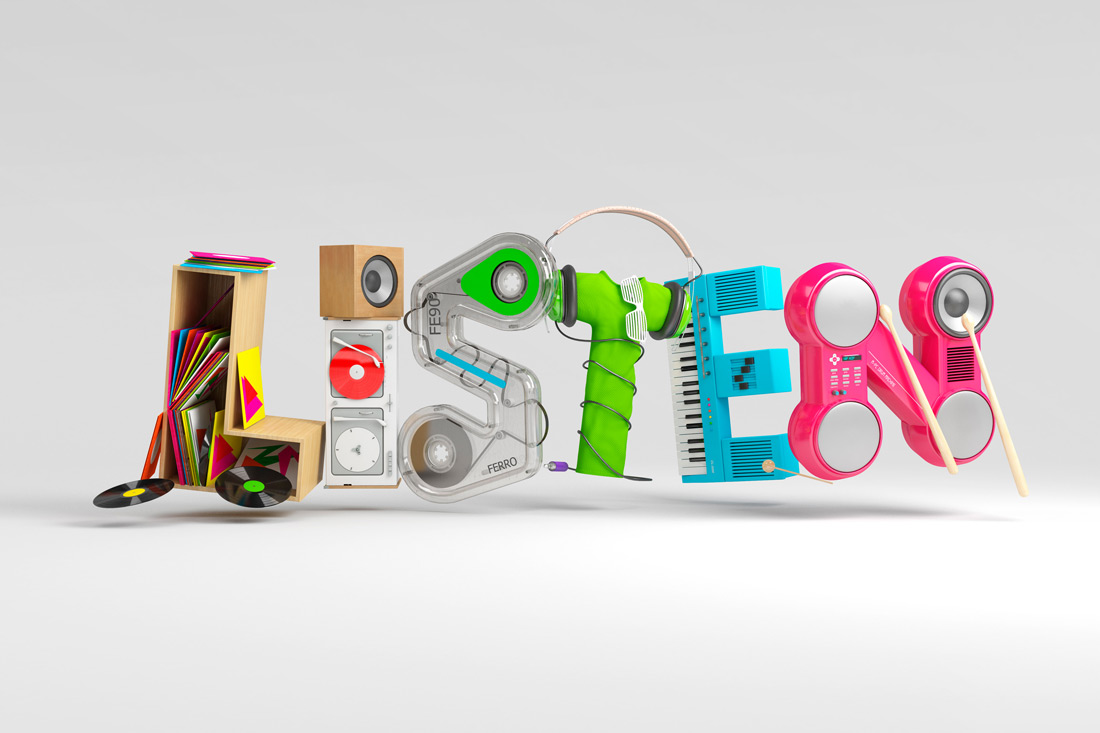 Chris Labrooy is a Scotland-based freelance designer and illustrator who experiments with 3D font projects and typography creatively. He uses CGI to transform everyday things into new typographic and sculptural forms.
He excellently uses colors and bold statements in every piece of his work. Chris is interested in the combination of typography, architecture, product design, and visual art.
His unique, artistic work can be seen across the UK, Europe, and the US for advertising, editorial, and publishing. His top clients include Apple, Nike, Jaguar, Lamborghini, Citroen, Lexus, Adidas British Airways, Time Magazine, Mcdonalds, AT&T, Xfinity, Porsche, etc.
Ged Palmer is a British designer, lettering artist, and sign painter based in London. He specializes in custom lettering, design, and graffiti painting. He has over twelve years of experience working with letterforms.
He is a member of the International Society of Typographic Designers and offers typography, calligraphy, lettering & sign painting services to his clients in the UK. Ged is also highly recognized by the International Society of Typographic Designers, the Type Directors Club and various publications worldwide.
Thuy Mat Tit is a typographer that uses creative typography in her artworks. Her first project "Whispered Garden Alphabets" combines the strong san-serif structure of the type contrasted with the elegance of the "nature" design works well together.
Each letter in the uppercase A-Z alphabet is a piece of art that has detailed illustrations in which she used a gradient of color to bring each letter to life. All characters are distinctively unique and artistic characters. She combines typeface design and art to create beautiful pieces.
Laura Meseguer is a Barcelona-based freelance graphic and type designer who works on commercial and personal projects.
She specializes in a wide range of projects such as custom lettering for monograms and logotypes, custom fonts/typefaces design for branding, book design, and publishing.
Rus Khasanov is a Russian visual artist, illustrator, designer, and art director that is known for making typefaces using laptop screens, tasers, and soy sauce.
His digital music video "Crystallize ", takes the shape of glyphs, even when the project is not strictly about typography.
Khasanov makes typefaces made out of liquid refractions and abstract films (hypnotic color films) using practical effects done on camera. He has created projects for the likes of Adobe, Bloomberg Markets, GQ, IBM, and Wired.
Charles Williams is a British artist, painter, typographer, Illustrator, and graphic designer based in London.
He is one of the founding members of the Stuckist art group and a member of the New English Art Club. His clients include some of the world's biggest companies like Adobe, Nike, and Converse.
Juan Villanueva is a Brooklyn-based type designer, lettering artist, and educator.
He is a type designer at the Monotype Studio in New York City who has worked on custom typefaces for clients such as Tencent Sans, Ricky Zoom, and multiple Google Noto fonts. His contributions to the Monotype Library include designs such as Walbaum and Sagrantino.
Harald Geisler is a German designer, artist, and typographer popularly known for his typographic projects on the role of writing in society.
His latest font design, the Sigmund Freud Typeface became the first typeface to be featured in the Wall Street Journal.
Harald is the publisher of the recent reissue of the Swiss design classic "Designing Programs" by Karl Gerstner, with Lars Müller Publishers Zürich. His design focuses on font design, book and app publishing, calendars, and still-life flower prints.
Miles Newlyn is a British graphic artist, type designer, and a leading specialist in brand typography based in London.
He has created several visual identities for some of the world's leading companies such as Unilever, Sky, Honda, and The Institute of Contemporary Art (ICA).
He is one of the top type designers who own and manage a design firm. His agency, Newlyn is an independent type foundry that focuses on creating a typographic voice for the world's biggest and best businesses
Ines Davodeau is a type and graphic designer who specializes in editorial and type design. He creates his typefaces to produce a unique project with a strong personality.
Davodeau's Asfen display typeface has recently been given a shiny new update and now comes with a variable font that allows users to play around and master tailored aesthetics.
Conclusion
We have identified the top modern typographers and famous designers that have been setting trends in the market and have been at the forefront of innovative, creative, and artistic typography designs.
Be sure to check them out and explore their creative type designs to inspire your creative journey. Alternatively, you can also research more typography artists to check out more artistic typography designs.
Good luck!
---

December 24, 2022
10 min read
13 reads
---
Impress your customers with cutting-edge graphics!
---