20 Cool Postcard Design Ideas To Inspire
A postcard campaign is one of businesses' most effective print marketing tools.
Unlike other print materials, people rarely throw postcards away. Instead, the most creative postcard designs end up on the bridge, scrapbooks, or memory boards.
However, we know that creating durable designs can be a tough climb. In this article, we'll share fantastic postcard design examples to inspire you. Hopefully, they ease your design process.
Before we dive in, let's look at some tips for designing awesome postcards.
Tips for creating Postcard Designs
Start with the Goals in mind
Before starting the design and writing of your postcard, map out the goal. What do you want to achieve with your postcard marketing campaign?
Don't start the postcard design without identifying the purpose. The purpose informs the words, images, colors, and other elements.
For instance, your goal might be to:
Introduce or promote your business to potential customers
Breakdown your services to prospects
Get more sales from your potential customers and cold leads.
Encourage loyalty from clients.
Get more appointment bookings.
Expand your brand recognition.
Drive traffic to your website.
Express feelings to your loved ones.
Get engagement on social media.
Give discounts and promotions
Get more views and subscribers on Youtube.
Encourage people to donate to a cause or sign a petition.
Invitation to get more sign-ups for an upcoming event- music show, a real estate open house, comedy shows, etc.
Each goal will usually take a different approach regarding messaging and performance tracking. So, knowing the goal will help you ensure the right message.
Get unlimited post card designs
to level up your marketing
Brainstorm with your team
When you identify your goal, gather your team to brainstorm the necessary elements to add to your design.
Your team might be a group of friends or a much more formal team, depending on your type of business and goal. You can create a checklist of elements with them and collaborate on the design process.
Write a precise, irresistible headline
A great headline is a powerful attraction tool.
Remember, most people are busy and would not pay much attention to your postcard. Even when they're paying attention, they have a short attention span and would most likely miss the message.
So, how do you grab their attention and make them get the message in your postcard?
An eye-catching, irresistible, clear headline is your best shot. The more precise your headline, the better your postcard will perform.
Highlight and bolden the most critical word or phrase to make it more effective.
Add a clear call-to-action
If you're using your postcard to advertise your business, provide clear next steps instead of selling and leaving the message open-ended.
People love to be told what to do, especially regarding marketing.
For example, you might tell them to:
Visit your company website
Visit your office
Send an email.
Call you.
SMS you.
Bring the postcard in person to enjoy a special offer.
Dial a code for a discount.
Join a bus to a show
Join an exclusive social media group
Book an appointment
Call for a free consultation
A clear call to action will help ensure that your postcard serves its purpose.
Sprinkle some personality
This is where you get creative.
You've crafted a clear message. Now it's time to sprinkle in some personality.
In adding personality, you will consider words, colors, and typography that fits your brand tone and brand personality. Next, you'll have to align this personality with your goal and then personalize it for your target audience.
Choose words, images, and colors that resonate with your audience. You can be witty with the message as long as it captures your personality and audience.
Pay attention to both sides
Have you thought about where your postcard will be stuffed? From what angle will your audience see it?
There's a 50% chance that your postcard will be placed in a messy pile, and your target audience will notice the rear design first. Would they still be interested in your postcard if they saw it from the back?
If not, it means you must work on getting your most important message on both sides of the postcard.
Both sides should have clear headlines and a clear call to action. You should also include contact information and logo on both sides.
Don't shy away from repeating yourself on both sides of the postcard. People skim postcards, so repeated messages might just be what you need. Download your free banner templates at All Time Design.
Play the long-term game
Postcards' tactile nature gives them a natural advantage as a form of print marketing.
When people hold a postcard, they're compelled to take a look at the content. This gives postcards an edge over email. So how can you use that to your advantage?
Give people a reason to keep holding on to your postcard. This could be by creating a flexible postcard that can serve as other aesthetic materials.
It could also be by adding offers to your postcard that allow your reader to hold on to the postcard for much longer.
To do so,
Add multiple time-sensitive coupons on one postcard.
Add promo codes to save and redeem later.
Make the postcard event access.
Make the postcard exchange for a gift.
Accept feedback on your design
Once you're done with your postcard design, send it to trusted people and strangers to get their opinion.
Ask them to tell you what they think about your postcard in three words. Check if their replies fit the intention you have for the design. If it doesn't, that could be a pointer that something needs to be refined.
Feedbacks help you perfect the message and design of your postcard.
Send to a quality printer
Once you're satisfied with the design, you can then send it to a printer. Choosing the right printer is critical to the performance of your postcard.
If you're gunning for the long term, you need high-quality paper and finish options to make your postcard last long.
Once you're done, you can send your postcards as direct mail to your client or send them to a mall where they will be shelved for people to pick up.
What information should I put on my postcard?
Depending on your goal, several pieces of information can be put on your postcard.
The following are some essential details to fill in your postcard:
Logo
Business name
Contact information (email, website, phone number, social media handle)
Company address
Directions
Office hours
Now that you know the design elements to put in your postcard, you should start designing postcards, except that you need design inspiration to help you get your creative juice running.
Let's look at some postcard designs from different businesses to inspire you.
Postcard designs Inspiration
1. Real Estate Postcard Design
If you're a real estate agent, postcards can help you effectively gather recognition in your community. You can use your real estate postcards to introduce yourself and your services; display your portfolio and available properties.
Your headline could be to offer a free consultation on home values in your area or free quotations.
2. Restaurant Postcard Design
Just like real estate postcards, your restaurant postcards can be a powerful tool to gain traction. You can display your menu, social media pages, and contact addresses.
If you just opened a new restaurant, you can easily mail postcards to addresses in their ZIP code at a lesser cost. In addition, you can include promotions and discounts in your postcard design to entice people to visit.
3. Travel Agency Postcard Design
Travel agencies can leverage the power of postcards to make their customers visualize different vacation destinations around the world.
If you run a travel agency, you can use your postcard to showcase beautiful travel photos, including must-see spots, package prices, and travel tips. All of these help to increase your postcard's longevity in your customer's hands.
4. Cafe & Bakery Postcard Design
Just like a restaurant postcard, you can spread the word about your newly opened bakery or cafe. Encourage people to stop for a free cup of coffee or free pastry.
In addition to expanding your branding, postcards can also serve as invitations for events at your cafe. In this case, it'll be important to include the event information and directions to where you're located. Check out some amazing food truck design ideas.
5. Tax Business Postcard Design
If you're into income tax preparation, tax problem resolution, and controversy, postcards can be an effective way to reach out to your prospects.
You can use postcards to promise your prospects a hefty return from the IRS, you can also promise free tax relief consultation.
6. Marketing Consultant Postcard Design
As a marketing consultant, reaching out to your prospects with direct mail postcards will require personalization. It should be intentional. So, whoever is receiving your postcard should feel like you know them enough to trust you.
7. Insurance Postcard Design
Insurance brokers and salesmen can also take advantage of postcards to create trust.
When creating insurance postcards, add a picture of you or your team on the front of your postcard to communicate a feeling of friendliness to your prospect. When they see your picture, they will feel more comfortable and willing to speak to you because they've seen who you are.
8. Security Business Postcard Design
If you sell security systems, use postcards to share security tips with your prospects. You can also use images that show the dangers of not having a good security system.
Explore some professional business card design ideas.
9. Medical Postcard design
Are you a medical doctor, chiropractor, or dentist?
You can leverage postcards to get more patients. You can include illustrations on first aid treatment for certain situations.
You can also send a "get well soon" or "don't forget your medication" postcard to a current or past patient.
They may also be useful to invite people within the community to a conference or town hall meeting.
10. Gym Postcard Design
Postcards can be great to get more membership signups to your gym. You might choose to mail it out to prospects or leave it by the front desk.
You can include free passes and a list of trainers to contact to make it more enticing. You could even make it more personalized by adding a home routine to your postcard.
11. School and Academy Postcard design
Postcards can be used to celebrate outstanding students or invite new students to enroll in your school.
You can also use postcards to invite parents to meetings or campus tours.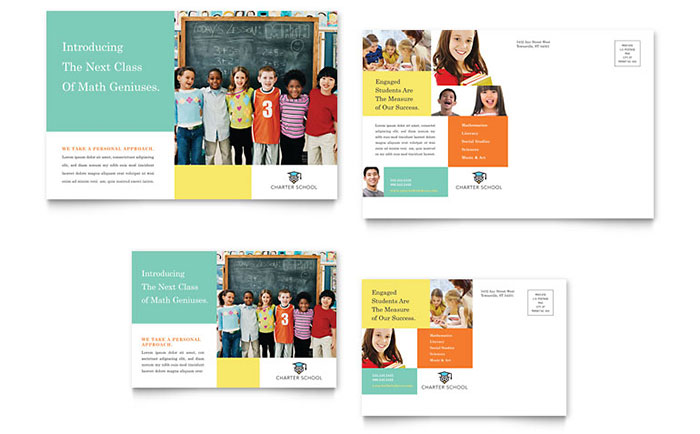 12. Clothing Store Postcard Design
Introducing a new collection? Postcards can come in handy to showcase your catalog of new clothes. This is an affordable way to promote your store.
13. Spa Postcard design
Just like gym postcards, you may choose not to send spa postcards out to prospects and leave it at the front desk. However, to make it enticing, you can use promotional offers in your postcards.
Find the best product packaging ideas.
14. Construction Services Postcard Design
Tell new homebuyers about your service in a high-quality postcard. They can carry this around and always remember to contact you when the need arises.
15. Plumber Postcard Design
Share your list of services, prices, and maintenance discounts on your postcards. You can increase your reputation and popularity across the community with this.
16. Supermarket Postcard Design
Postcards are ideal for announcing supermarket openings, new products, or discounts.
17. Nonprofit Postcard design
You can use postcards to reach out to your donors, telling them compelling stories about your cause(s). You can also use postcards to thank your patrons for their donations and show them where their money has been going.
18. Art Gallery & Museum Postcard Design
You can use postcards to invite people to an event or exhibition at your museum or art gallery. This should be something you give talented designers to handle since it has to portray art.
Explore the top poster design ideas for businesses.
19. Vet Clinic Postcard design
Just like medical postcards, you can also use your vet clinic postcards to get more patients. You can include fun animal pictures or make it more personalized by including a check-up reminder.
20. Happy Birthday and Thank You Postcards
As you would have noticed, print marketing isn't just about selling. It's also a means of creating brand loyalty and showing your customers that you care.
You can send personalized postcards to your current customers and prospects during their birthdays or after a purchase. This gives them a feeling to remember and increases the chance that they will patronize you again.
Bottom Line
Regardless of your business, postcards are one of the most efficient marketing tools to explore.
When well-written and well-designed, postcards can help you increase your sales and your brand recognition, and customer retent when well-written and well-designed.
Now that you have an idea of what you might create, you might want to ask how to create your own postcard.
How can I create my own postcard?
You can easily create your postcard design from scratch with easy-to-use graphic design applications like Canva or a template site like Vistaprint. These websites offer free and premium editable templates for marketing materials. Interestingly, they also offer printing services and deliver to your doorstep.
However, the right way to go if your postcard is for marketing purposes is to hire a professional graphic designer. A graphic designer would put that touch of professionalism in your postcard since they have the experience and expertise.
Let us help you create an attractive postcard design masterpiece
Our professional graphic designers at All Time Design have the expertise and experiment to help you design postcards that will make your audience stop, look and take the action you want them to.
All you need is to tell us your goals, and we will bring your design ideas to life in high-quality graphic designs.
The interesting part?
Our services are fast and affordable. You don't have to worry about extra charges – what you see is what you get.
Ready to design postcards that help you increase sales and customer loyalty?
---

September 9, 2022
10 min read
39 reads
---
Impress your customers with cutting-edge graphics!
---