Best 15 Presentation Design Ideas
Despite being in the modern world, most of us are still drawn to moments where design presentations do not seem to be visually engaging or intriguing.
Maybe because most of the time, people who create these design presentations do not properly use white spaces or perhaps just fail to create quality presentation content that can dazzle and grab the audience's attention.
Powerpoint presentations and Keynotes may be considered electronic slideshow siblings which have been proven useful for communication in many circumstances – work, student life, and even businesses.
As a matter of fact, statistics have shown that 89% of people use PowerPoint over other presentation tools available in the market due to familiarity and easy navigation.
A presentation is a form of storytelling that changes the way people think about a subject matter. And believe us when we say – good stories can create an emotional connection between the presenter and their audience.
To tell good stories with your entire presentation, you should consider having presentation ideas that will gain visual interest and visually engage with your audience. According to presentation statistics, 91% of presenters agree that they gain confidence when they know that their presence is beautifully designed. However, 55% of people still say that a great story is what holds their focus during a presentation.
But how do presentation designs affect your storytelling? Does it really matter? If you want to know these things, the more reason you should continue reading this article.
Get ready to understand what presentation designs are, their uses, the elements that make your presentation, their types, and many more!
Let's get started!
What is a PowerPoint Presentation?
As mentioned earlier, multiple free download software applications allow users to create presentations and turn their presentation ideas live. Multimedia presentations have indeed become an inevitable part of both education and businesses. Although there are a lot of software companies that have thrived in recent years, Microsoft's PowerPoint remains to be the evergreen leader.
This is no surprise at all!
In the last decades, Microsoft has established Powerpoint as what it means to be a presentation software. The powerful application has been continuously developed and enriched with more robust features.
It has everything you need to create animated presentations with 3D models, advanced motions, and other styles and features that boost collaboration.
A Powerpoint presentation, otherwise known as a Powerpoint slideshow, is a presentation created on the Microsoft software, Powerpoint. It allows users to add visual and audio elements to a presentation. It is considered a multimedia technology that acts as a tool for presenting data, collaborating, and sharing content of all sorts.

PowerPoint slideshows are considered one of the most straightforward, most useful, and easily accessed tools to create and present visual aids. With elements and tools creatively combined, the audience is much more focused through increased visual impact, productivity, and spontaneity. Check out some PowerPoint presentation design ideas.
What is a Presentation Design?
Presentation design is a collection of words, charts, and images designed in a slide to tell good stories or pass a vital message that will be able to inform, entertain or grab your audience's attention. In order to have a flawless, completely perfect presentation, you must pay close attention to each element of the design idea.
Here are the key elements of presentation design you should take cognizance of.
Unity
The key to every presentation design is ensuring that all slides are aesthetically united and related. Your slide deck must have a uniform appearance and feel. For presentation ideas to become more aesthetically pleasing, all items on a page should have the appropriate color, texture, speech bubble, and other shapes.
The slide designs must be unified and serve a certain function. The intended message will be lost, and the intended audience will be confused if the slide designs appear disorganized or lack cohesiveness.
Emphasis
Another vital element of the design you should focus on is the emphasis that a particular portion of the object utilizes the proper combination of color, positioning, and size. This is where the wise use of white space comes into place.
By doing so, you can get your viewer's attention. Therefore, you should have some design elements in mind you want to emphasize. In addition, you can boost the emphasis by utilizing bright colors, larger graphics, and bold text. Find the guide for how to choose the brand colors.
Balance
There are two sorts of balance in presentation design, namely, symmetrical and asymmetrical.
Regarding symmetrical balance, the elements on both sides of a design are similar in size or location. One example of this is the human face. Therefore, to make the most of the symmetrical design strategy, you must check and ensure that the photos, text, and all elements on both sides of the slide are equally weighted and positioned.
On the other hand, when it comes to asymmetrical balance, each side of the design is distinct while remaining in balance. The kind of balance that asymmetrical designs make it more visually appealing by giving the overall design a new feel or vibe.
Movement
Any presentation needs to have motion or a sense of it to visually break your content. Designers mainly use curved lines to make it look like the slides are moving so that the audience thinks they are all part of one seamless whole.
So far, these are the four essential elements of a presentation design. The main point is to use all these elements in your creative presentation ideas and slide deck to ensure your presentation's organization and visual appeal.
Be consistent with your colors, font size, font weights, and font type to ensure the design cohesiveness. Here are some tips you may consider for your presentation's typography.
Consider choosing a color for the whole PowerPoint presentation and ensure there are highly contrasting colors and proper use of white space that could be easily seen and read on the projector.
Never underestimate the significance of font style, size, and type in Powerpoint presentations. While trying to escape the regular and primary font type such as Times New Roman or Calibri in search of a much more posh font with font weights, it is essential that you stick with readable fonts. Remember that a Powerpoint presentation should be able to convey your message.
Avoid using caps lock during a PowerPoint presentation so that it does not pass a message that you are screaming at your audience. Instead, you could highlight critical points you aim to focus on while delivering a personal or business presentation.
What is the purpose of a PowerPoint Presentation?
Understanding the purpose of a PowerPoint presentation is a core ingredient to running a business, introducing and selling products to customers, and pitching a sales presentation.
To gain a whole new level of leverage for your business branding, you must understand what purpose your Powerpoint presentation is trying to serve your audience.
Here are some of the most essential purposes of a Powerpoint presentation in your business:
To Inform
One of the purposes of a PowerPoint presentation is to inform people about new or existing information that impacts how they make decisions. Presentations are often demonstrated with stock images, graphics, video, or text, allowing you to communicate effectively with your audience.
To Entertain
Do you want to make your audience laugh? How about for them to cry? Another significant purpose of an excellent presentation is that it can engage your audience's attention by making them feel and be entertained via visually appealing content that makes them consider the worth of what they are learning or listening to.
To Persuade
The purpose of a great presentation is to entice an engaged audience by captivating their minds, logic, or emotions. Which leaves them with no choice but to act on the great idea shared by the presenter. Your ability to persuade an audience is largely dependent on how well you can captivate your audience's attention.
Types of PowerPoint Presentations
Knowing and understanding how crucial a PowerPoint presentation is have helped many businesses close business deals running up to millions of dollars with just the right amount of slide decks.
This only goes to show that every Powerpoint presentation must depict its apparent intention, which goes beyond grabbing viewers' visual interest. After all, creative presentation ideas have the capability to boost a business's revenue bank.
However, aside from understanding how creative presentation ideas impact your business presentation, you would also have to know the different presentations you have to create based on their content.
Portfolio presentation
A portfolio presentation mainly explains to your clients the list of products/services that you offer as a brand. This presentation template gives you the chance to take a panel through your design process and workflow. While delivering this presentation, you must ensure you do the following:
Include the best possible projects you have worked on so far. You do not want to show off a half-baked project to your potential clients.
Ensure that your design process and workflow are well organized and communicated.
Make sure you do not waste time going over the list of the products and services you offer as an organization.
Pitch Decks
Also known as a startup pitch or slide deck, this presentation is intended to make your business investor give in to your business idea or schedule a meeting with your organization for further business talks. The acceptable number of slides for a slide deck should not be more than 19 slides. The following are to be included in a slide deck:
Introduction
Solution
Product
Team
Financials
Problem
Market Cap
Traction
Competition and Investments
One crucial thing about pitch deck presentations is that the presentation template is not crowded with many texts as they may bore or distract your audience.
Timeline Presentation
Also known as schedule presentation, the timeline presentation is best used to communicate present data such as events, dates, and companies' growth records in a chronological and visually appealing manner.
If you want the best type of PowerPoint presentation to show trends from both the past and present events, chronologically, then you may want to consider using the timeline presentation.
For instance, a timeline presentation could be used to create an agile development cycle. Mind you, you do not necessarily need to use a Powerpoint presentation. You could as well use the office timeline and if you think you have a lot of responsibilities on your plate that will hinder you from designing a creative presentation, outsourcing this role to a presentation agency will be just the best decision you would make.
There are a few things that you should be able to remember when creating a timeline presentation.
First is that you should be able to differentiate between tasks and milestones. Tasks are a series of activities that are prerequisites for accomplishing a milestone. Milestones, on the other hand, are the deadlines that you give for specific goals or deliverables.
Another is that you have to make sure that you sync any external data created outside of the Powerpoint presentation and avoid using the undo feature or CTRL Z command to avoid alternating major changes on your slide design.
Roadmap presentation
If you are presenting a business's strategic plans within a specific duration of time, then a roadmap presentation would be your best option. Roadmaps presentation are often used to imagine a business's strategic plans.
They are primarily used to illustrate the required project actions or processes required by a business to achieve a specific project. Think of these types of presentations as some sort of manual that walks a team through the entire phase of a project.
Roadmap PowerPoint presentations are often used by project/product managers to walk team members through every phase of an ongoing or upcoming project or product to allow for strategic planning to achieve specific goals.
Roadmap presentations are also best for illustrating business strategies and analysis in line with the overall goals and plans of the organization as they can effectively bridge gaps between product vision and technology.
There are a whole lot of roadmap presentation templates that can be found online and they include product roadmaps, project roadmaps, customer journey roadmaps, and marketing roadmaps.
Sometimes, a presentation template can help you easily and quickly create your creative presentations.
Elements of a perfect roadmap PowerPoint presentation
A perfect roadmap PowerPoint presentation should be easy to understand and, above all, able to track. It also must align with the company's goals and objectives.
It should be presented based on customer acquisition to help facilitate the team members' decisions toward managing a product.
It should conform to the goals and objectives of your organization.
Ignite Presentation
The word "ignite" presentation sprung up from the slogan enlighten us, but make it quick. It is a kind of presentation that gives presenters the room to enlighten their viewers for a dura with about 20 slides that automatically advance. Each of these slide designs is displayed for 15 seconds. The ignite presentation began in Seattle, Washington, in 2006 with O'Reilly Media. It has spread to over 350 countries as of the time of writing. The goal of the ignite presentation is to appease the audience with great content that captivates them, leaving them hungry for more.
Benefits of Ignite Presentation
You would enjoy using ignite presentation only if you know the benefits attached to using it. A few of its benefits include being able to adequately prepare before your audience as you would want to ensure that you give a solid and intelligent speech.
It also allows you to be mindful of your time and stick with it. It is no news that an average human's attention span is 8 seconds. So engaging with them within 1-5 minutes will be your challenge. After that, your speech is defeated.
Pechakucha Presentation
The name 'Pechakucha' was derived from the Japanese language, which means chit-chat. Pechakucha presentation is an informative presentation that should not exceed 400 seconds. A Pechakucha presentation is typically made up of 20 slides that give the presenter less than 20 seconds to present each. In total, the presenter gets 6 minutes and 40 seconds to make the presentation, primarily focused on telling stories through images such as hand-drawn illustrations, comic book images, and other image-focused slide designs, rather than reading heavy texts from the slide deck.
The challenge in these types of presentations is the use of strategic storytelling techniques and synchronized timing to make audiences avoid losing focus.
Creating a Pechakucha Presentation
To succeed in delivering a Pechakuta presentation, you should know how to create a Pechakucha presentation:
1. Pick a topic that you can present. It should be a topic that you love and have an interest in.
2. Create an outline for your presentation to ensure that your speech is synchronized with the time, so you do not exceed your time limit.
3. Create your own presentation with creative presentation ideas using great stock photos that will interest and engage your viewer's attention.
Product Catalog Presentation
Product catalog presentation is essential for marketing as it gives detailed information about your product, such as product price, specifications, quantity, logo, and many more.
This PowerPoint presentation idea has been chiefly used in B2B and B2C transactions. It facilitates decision-making in purchasing products, increases conversion rate, fastens a customer buying process, and enables product managers to draft a new product listing if necessary.
Corporate Presentation
It is a unique strategy for communicating a company's brand image.
This whole presentation is best used to pitch the uniqueness of either your brand's product, services, or brand identity.
The image you create about your organization determines the impression others will have about your brand. Hence, the need to promote your brand image in a good way. Below are ways to create a corporate presentation:
Think of what subject will most likely interest your audience about your location.
Consider the best platform you want to use for your presentation, such as Powerpoint, Keynotes, Canva, and others.
Maintain the proper use of white space on your slide deck to avoid information overload.
Ensure you stick to a cohesively designed slide layout to communicate your message.
Use valid and reliable real-time data and visual representations or statistical diagrams such as pie graphs, charts, etc.
Elevator Pitch
An elevator pitch is a short, convincing presentation you give to get people interested in what your company does. It can also be used to get people engaged in a project, an idea, a product, or even yourself. A great elevator pitch should not exceed 20-30 seconds. The following steps below will help you prepare a great elevator pitch:
Define a goal.
Describe what you and your brand does.
Share information about what makes your business stand out from your competitors.
Hook your audience with a compelling question.
Practice and do not stop practicing.
Motivational Presentation
One of the most prominent examples of motivational presentations is the inspirational presentations you can easily find on Youtube. A great example of a motivational presentation is TedTalks. Many motivational presentations persuade, inspire, and motivate the audience.
Motivational talks in the design world may be scarce. However, in business, motivational presentations may not be as dramatic and life-changing. Still, they sure can grasp your audience's attention and gain their approval.
A great example of this is a company overview presentation where an assigned presenter presents a company's information, how it was founded, its leaders, the company's mission and vision, and the most important of it all – the company story.
This way, the company holistically connects with the audience, which can boost morale during a team meeting, executives present and convince potential customers to invest or even work with them, or an HR representative makes new hires more enticed to work for the company.
Top Best 10 Tips for Preparing a Presentation
Think of your presentation as an opportunity to wow your audience and spike your organization's growth.
However, you need to be adequately prepared to deliver a good presentation as it defines not only how you project yourself to your audience but your business's branding.
Here are some excellent tips for preparing a presentation:
Prepare a presentation outline
Before delivering a presentation, ensure you have prepared your presentation outline. Doing this will help you streamline what best to present with great presentation ideas and relevant content.
Use valid resources to create relevant content
It is important that your presentation content is based on the use of valid resources. Effective content must have a hook, body, and conclusion. Therefore, in order to have content that is worth listening to, it should be factual, engaging, and should be goal-driven.
Rehearse your own presentation
It is usual for presenters to feel anxious about presentations. Unfortunately, a lot of presenters develop anxiety, especially when they feel that their presentation may not sound as authentic if practiced too much. However, experts suggest that in rehearsals that go for a minimum duration of 3-4 weeks, presenters can present their content that sounds the most natural.
Let your body speak for you
Research conducted by Albert Mehrabian explains that the body language of the presenter determines 55% of an effective presentation. In comparison, 38% is determined by the voice tone used by the presenter and the rest by 7% by the message the presenter intends to convey to the audience. So, when you are rehearsing as a presenter, make sure you use the body language and voice tone you think are suitable for your audience's attention.
Do not be scared to let go of your notes
There is no possible explanation for why you have to remember the notes of your presentation from start to finish. But make sure your notes are structured in a way that helps you keep the audience's attention. One of the best tips to rehearse smoothly before delivering a presentation is structuring your notes with data points so you can keep track of what you intend to speak on during your presentation.
However, in many cases, experts suggest that presenters are sometimes better off without notes as it exudes mastery and professionalism. Therefore, it can be wise at times to let go of your notes and remember your content by heart.
Think about the visual aids you use
Visual aids are important tools to make your audience understand your presentation even more. It is imperative to remember that if your visual aids are loaded with information such as a long list of data points, it may become difficult for your audience to focus on your content.
Design tips would suggest that having great visual aids should always be appropriate to the content that you are making.
Use a microphone (if needed)
In some cases, presenters need microphones for presentation – and they are not toys that you hold for fancy. It is vital that what you say is magnified, especially in a room full of people. So, should there be a need to use a microphone, make sure that it is reliable for delivering your presentation.
Rehearsal with your dress
Do a full "dress rehearsal" with the dress you plan to present with a day before the said presentation. If you fumble during the rehearsal, try to fix it the same way you would during the presentation.
And on the said date, ensure you deliver a good presentation. Remember that delivering a creative presentation is a lot like organizing a good show. To be your best self when giving information, you need to practice. Also, check out the guide about how to create an attractive PowerPoint presentation.
Best 15 Creative Presentation Design Ideas
Below are 15 presentation ideas that will help you create an impressive slide deck that will wow your audience and keep them in your entire presentation.
Minimalist presentation theme
A minimalist design is clean and neat, and it places focus on what is relevant: your content. There are no stock images, icons, or text that could be interrupting. Everything on this one-of-a-kind presentation looks like it aligns together.
Make your PowerPoint opening slide count
Your opening slide is expected to engage your audience in a good way and make them stop scrolling. Therefore, your slide design should include a design style that best grasps the attention of your audience. Do not be afraid of using artsy iconography, typography, or even use pop culture references for your design.
Establish rapport with your audience
Hand-drawn illustrations can be compelling because they can make your audience feel connected and gain their trust. This is important as it helps you warm up with your audience, making them more eager to listen. Thus, you have to find the balance between being entertaining and serious at the same time.
Use a bold text
Whether you are addressing a small group or a stadium full of people, make sure everyone can see your text! Use a big, bold text that can be read even from the back seat.
The truth is, you never really can tell where your creative presentation will be seen. It could be seen in a conference hall and everything in between. With a bold, easy-to-read font, you can give a creative presentation almost anywhere in the world.
Make Your Slide Deck Mobile Responsive
As more and more people become bound to using their phones as their main device, it is crucial to make sure that your presentations are mobile responsive and compatible. This means that your texts are not overloaded on your slides.
Do not forget to include some good examples
Examples make your presentation content more understandable, especially if your topic contains complex and comprehensive subjects. Thus, it is highly recommended that you show off some good examples that would help convey your message better.
Repurpose your online courses into a creative presentation
You could curate content from a large written piece and turn it into a slide deck. Instead, try not to include too much information that would distract your audience. Only focus on key information and make sure that everything on the slide can be easily understood by your audience.
Try a fun design
There is no manual for creating a creative PowerPoint. Fun designs can include fun design ideas that may be out of this world for many! Some use a free download template or sometimes make use of fun design elements such as incorporating comic book layouts, contrasting colors, and fun text layouts!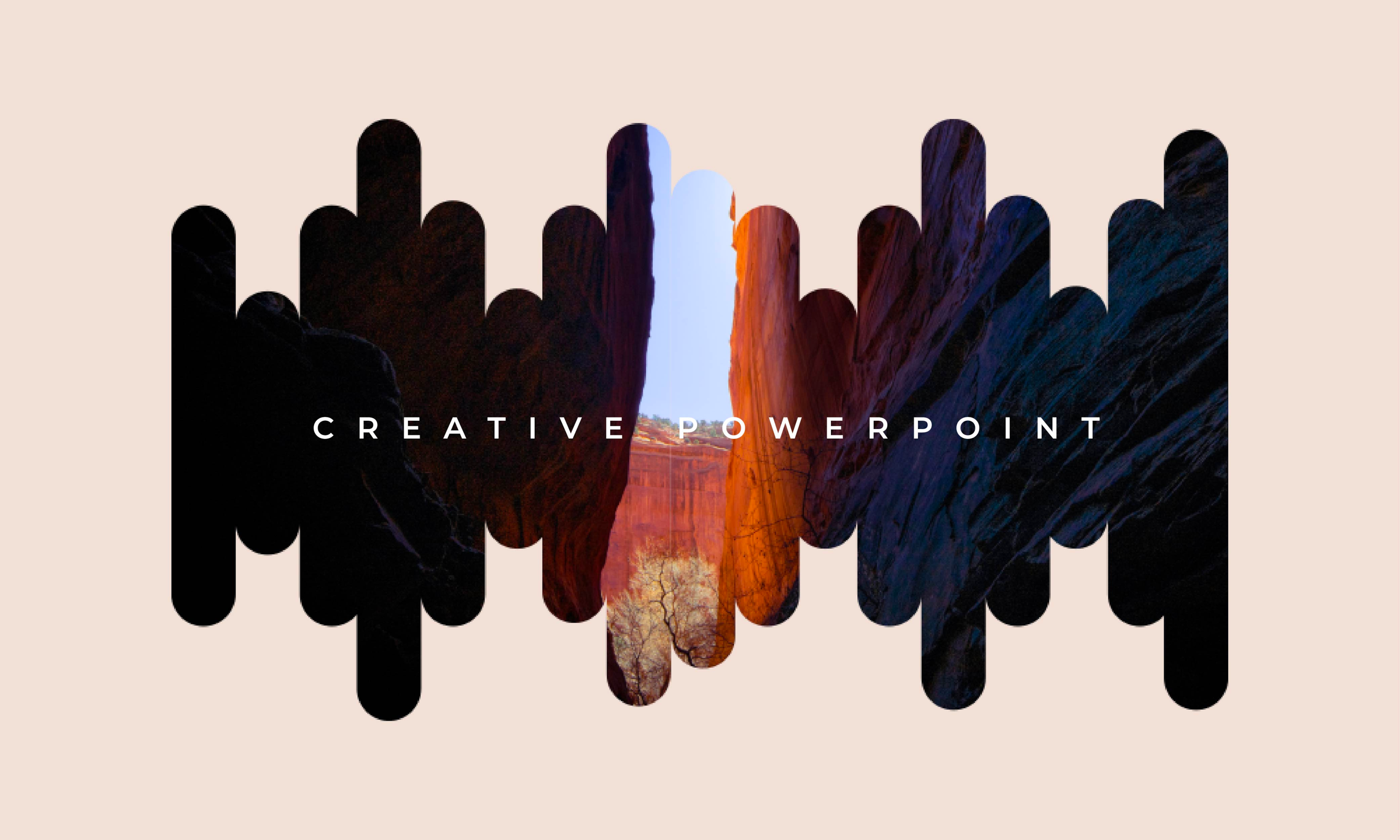 Be consistent with your photo background
If you are going to choose a specific photo background, ensure that you are consistent with it. By doing this, the audience can pay attention to what is happening in the foreground. Plus, it makes your own presentation give out a whole different vibe.
Keep your style consistent with your branding
You might be enticed to change the way you present your creative presentation each time. But do not instead stick to the kind of content that your brand is known for. If your brand is known for fun and minimalistic content, keep that style in all of the presentations you deliver under that brand. Make sure that your brand colors dominate your presentation to keep it cohesive with your identity.
Overlay stock photos with color
People often have trouble finding photos with the same style when they are making a presentation or slide deck. Therefore, adding a transparent color overlay is one of the design elements that you may use in making your photos and presentation cohesive.
Plan ahead for your presentation idea
It is easy to tell when a presentation is well-planned compared to when it is not. A well-planned presentation will reflect on the design ideas applied and the whole presentation itself. Thus, it is vital to take the time to plan out your presentation ideas and design concepts before doing the actual presentation. This also leaves your business a good and professional reputation.
Give white background a trial
Many people consider using a white background boring for a presentation, making them use a color or image as their background – which is not bad.
However, an excellent presentation idea can also use a white background with just the right amount of other design elements that can create a great and attention-grabbing presentation.
Alternate slide layouts
Keep your audience guessing if you want them to pay attention to your whole presentation. You do not want them to know exactly what is going to be on the next slide!
To alternate slides, layouts are a great way to keep things fresh and interesting. This means that you should change the way your slides look and how they are put together throughout your presentation.
Include an index
In any kind of presentation, it is important to tell the audience what to expect by telling them what the plan is.
This tells your audience what you are going to talk about during your presentation. This is especially helpful if the presentation is self-led so that the audience can easily move from one slide to the next as needed.
Steps to designing a presentation that will amaze your audience
When making presentation slides, you need to find a balance between keeping your audience's attention and keeping their interest without taking their attention away from your main point. Below are some of the crucial steps involved in designing a presentation that will amaze your audience:
Keep it simple
If your slides pose to be more relevant than what you say, your message won't have as much of an effect. To avoid this entirely;
Try not to use slides with a lot of text, especially if it's just a recap of what you're saying. The people in the room might be reading your presentation instead of listening to you.
Ensure you have a clear background to prevent distracting the attention of the viewers.
Use short, clear bullet points on your slides to show the main points of what you want to say. Some good speakers use images more instead to drive whatever point they are trying to make.
Consider the ratio of your presentation slide deck
There are several ratios of a presentation slide deck that are used during the presentation. It is important that you use the most appropriate size depending on device compatibility. For example, the 4:3 ratio is good for presentation slides that need to be seen on many devices. For conference presentations, you may use a ratio of 16:9.
Make a unique title page
The title page should be interesting to quickly grab the attention of your audience before you even start talking. It should give out what the topic is all about so as to not confuse your audience about what you are about to present to them.
Restrict the use of transitions and animations
Using a lot of animations often results in the audience being annoyed with the presentation. Thus, despite the possibility of slideshow presentations being boring, consider the type and the frequency of using animations. Here are some things to consider when using animations for your slide deck.
Use animations only when you need to like to show the steps of a timeline.
Your animations should be professional and not too flashy.
Do not make every part of your slide move.
Do not use animations between every slide, and do not use more than three different kinds of animations.
Use top-notch graphics
Using high-quality graphics as part of your design style exudes professionalism. Images can be easily used by the presenter to support and drive an important point. However, they should not look stretched as low-resolution photos can make your presentation look like a mess.
Refrain from using Clip Art as your audience may perceive them as amateurish. Instead, use stock-free photos which are high quality and free for commercial use. Some websites you may visit for stock photos are Pexels, Unsplash, and Pixabay.
Use the correct charts and diagrams
Charts and diagrams show data for the audience to easily digest and understand in a way that does not overwhelm them.
Consider using the data that is most important to include the most important points to be represented by charts. For example, horizontal bar charts are widely used for comparisons, vertical bar charts for trends, pie charts for percentages, and tables for presenting numerical data.
Use video or audio
Videos or audio are the best way to get people's attention and keep them interested because they change the pace and help people understand what you are talking about. When using video or audio, consider the relevance of the video or audio content and its timeframe. The videos and audio you should use for the presentation should be topic-relevant and not lengthy as they can get boring leading to losing the focus of your audience.
Pick fonts wisely
Use and apply typography wisely for your presentation. It is best not to use more than two fonts as they may appear incoherent. Expert designers also suggest avoiding personalized fonts, significantly if the document can still be edited, as this can be incompatible with some computers. This may result in delays or mishaps on the day of the presentation.
Use contrasting colors
Research shows that using color makes people more interested in reading and more excited about a presentation. So use colors that evoke feelings and can help people understand what message you are trying to make.
Principles to Creative Presentation Ideas
Think and talk visually.
Remember that slide presentation are visual tools. Therefore, it is essential to consider that your design should be suitable for your content.
Be consistent.
Consistency is key. Keep your designs simple by using consistent elements such as fonts and colors. Make sure that they are visually engaging and cohesive.
Do not forget your branding
Aside from keeping your audience's attention by providing the correct information, you always have to keep in mind what your brand represents, making your audience remember you throughout the presentation. Check out the tips and guidelines for designing a folder.
11 Tools for Creating an Amazing Presentation
Canva makes it easy to design, even for marketing companies and salespeople who don't think they're good at design. You can use the platform's presentation templates immediately, and it's easy to change them to fit your organization and presentation goals. In addition, you can make your presentation on canvas for free. Canva is integrated with applications like Instagram, Google Drive, Facebook, etc. The free version is free, but the pro version costs $12.95/month and $30/month for the enterprise plan.
PowerPoint has been the classic presentation software for many years, but it hasn't stayed the same. PowerPoint has many features that can make sales and marketing presentations lively, enjoyable, and engaging. In addition, Powerpoint has 3 paid versions: basic, $5/month; business-standard, $12.50/ month; and business premium, $20/month.
With Apple's Keynote, you can work with people who use Microsoft PowerPoint as well as your Mac and iOS devices. This application software is a popular choice among sales and marketing professionals because it has visual tools that are easy to use, such as drag-and-drop and interactive charts. To top it all, this software for presentation is free.
SlideModel includes thousands of customized and fully editable presentation templates, allowing any presenter to save time while delivering engaging and aesthetically beautiful presentations. Their library of presentation templates includes several corporate objectives and is occasionally updated to introduce new business and education templates. SlideModel has several pricing models, which is a free plan, $0/month,
The one-day plan is $24.50, and the yearly plan is $199.90/year.
SlideShare is a common option for sales and marketing professionals seeking a means to share content with the public. Because it already has a built-in community, you may instantly distribute your presentation to a large number of individuals, and those individuals can embed your SlideShares on their websites and blogs or share them on LinkedIn, Twitter, Facebook, etc. This presentation platform is free to download or use by the public.
AhaSlides is presentation software that encourages audience participation. Construct an interactive presentation with live polls, idea exchanges, word clouds, and quizzes. Then, allow your audience to engage using their smartphones. Ahaslides presentation software has four different plans: the free plan, the Monthly plan called essential, $4.95/month, and the pro plan, which is also a monthly plan, $15.95 /month.
Beautiful.ai allows you to create stunning presentations, pitches, and proposals without a design team. Instead, AI applies design specifications in real time, and you have access to a bank of free images and icons. Beautiful.ai has three paid plans: the free plan, the monthly plan, which is $12 per month, and the team, which is $38 per month.
Skilled sales and marketing professionals pick Emaze because it simplifies the process of creating stunning presentations. Emaze has both a business plan and a pro plan. The business plan is $40/month, and the pro plan is $13/month.
Google Slides is a presentation application included in Google's free online Google Docs Editors suite. Google slides provide a few different types of services, which also include: Google Docs, Google Sheets, Google Drawings, Google Forms, Google Sites, and Google Keep.
Slidebean is another presentation program that stands out from the competition. Using Artificial Intelligence, the software essentially performs the design for you. Slidebean software creates your content and generates a presentation plan. In addition, it analyzes the essential components and organizes your text correctly. Slide bean has both free and paid plans. For monthly, pay $29, and yearly you pay $228.
Slides is an open-source, cloud-based presentation creation and sharing application. The application is compatible with all devices, even mobile ones. In addition, it includes capabilities that allow you to fully customize your slide decks. Slides have a media library that keeps your assets organized and makes it simple for team members to reuse them. For a more interesting presentation, you can employ vertical slides resembling sub-slides to your main slides. Slides have a free plan and 3 different paid plans: slides lite, $7/ month; Slides Pro, $14/ month, and $28/ month.
An extremely well-known cloud-based platform that allows users to build interactive presentations and track their outcomes. Depending on your subscription, you will have access to an extensive collection of editable templates on marketing, sales, business, and education topics, as well as icons and graphics.
The Stages of Presentation
Planning
Calculate the amount of time required to deliver your presentation, the required time to practice for the presentation, and memorize it. It will help to keep you in check while on stage.
Preparation
There is no such thing as a fantastic unplanned presentation, and every excellent presentation could be better with more preparation. Preparation entails comprehending the audience's needs, generating topic ideas from that vantage point, refining a single message, and organizing the supporting conversation. This planning is essential to success.
Consistency
This consistency within the supporting media of pictures, typeface, and color enhances the effectiveness of the message.
Practice
Practice is the solution to many concerns about terrible presentations and the reason why so many are excellent. It requires more than a few readings of the script. It is targeted, particular, and organized.
Performance
It is about engaging the audience, responding to concerns and ideas, and being authentic.
Frequently Asked Questions
What are the classifications of presentation slides?
There are 3 classifications of presentation slides which are the following:
Text slides: These kinds of slides include lots of text layouts. These kinds of slides pose to be best for learners who understand better and faster through either reading or writing.
Visual slides: These kinds of slides include lots of graphics, stock images, directions, and many more. These kinds of slides are intended for viewers who understand information faster in visual form. This kind of slide is often preferred by visual learners.
Mixed slides: These slides include the use of both text layout and visual content to communicate key points to their viewers. Learners who use these slides could either be reading/writing learners or visual learners.
What does a good presentation look like?
A good presentation needs to have a headline, intriguing text, a body, and an end. In your introduction, you should briefly explain what you are going to talk about and why your audience will find it useful or necessary. Then, give a bunch of proof.
How can I make a presentation better?
Be clear and concise.
Create an attractive structure.
Use graphs and charts.
Know the latest design techniques and styles.
Just remember the 10-20-30 rule.
Tell a good story.
Look great and act accordingly.
What does a pitch deck include?
Most of the time, a pitch deck comprises several slides that help you tell a unique story about your brand.
Which is the most common software for presentations?
Google Slides
Powerpoint presentation
Keynote
Slides
SlideShare
Visme's presentation tool
SlideModel
How do you smash a presentation?
Understand your key message.
Take note of your presentation time and make it your baseline for your slides.
Display only keywords or phrases on the slides.
Utilize visuals or graphics to clarify complex concepts.
Keep your explanations concise.
What are the ways to improve a presentation?
Speaking in front of others should be mastered.
Use more images and fewer words in your presentation.
Utilize your individuality.
Welcome questions and comments after the presentation are finished.
Be passionate and engaged.
Keep eye contact with the audience.
Show concern about your listeners.
Conclusion
A presentation is an excellent way for a speaker to share information with an audience. In businesses, it is a great tool to promote a business or a brand by providing demos, introductions, lectures, or speeches.
This allows a company to inform, persuade, inspire, or motivate potential clients to make a purchase.
Given all the importance of presentations, this blog post only emphasizes the importance of communicating with your audience.
And communication is best done with the right tools, such as having a creative PowerPoint that supports your message.
However, as designing is not for everyone, you may want to consider getting help from the experts like All Time Design. All Time Design can help your creative PowerPoint design ideas become a reality with design experts that can elevate your brand through well-created graphics that will surely take your presentation to a whole different level!
Get started and see for yourself. Request a demo today!
---

October 3, 2022
10 min read
21 reads
---
Impress your customers with cutting-edge graphics!
---