30+ Real Estate Logo Ideas
Being distinctive is crucial because the real estate industry is one of the most cutthroat. So possessing a solid real estate logo design is a terrific place to start.
Your real estate agent logo sets you apart from the competition and aids in brand identity.
Real estate companies should create distinctive branding strategies, much like businesses in other sectors. Logos are tried-and-true images to build a company's identity and authority in specialized markets. Additionally, a well-thought logo design engages buyers and viewers with the company. Remember that a logo maker may also assist you in receiving dozens of original logo concepts that immediately reply to your design brief.
Some common motifs, such as rooftop, are widely utilized in logo design for the real estate industry. Yet despite this, the viewers' emotional response to the design was ineffective. Therefore, unusual concepts for a real estate logo mean a lot to designers.
Square windows and sloping roofs are frequently seen in abstract spaces or piled on top of one another in visually perplexing clusters in the field of real estate logos. They make for a very generic brand logo like the Shutterstock logo because they are common, uninteresting, and omnipresent. In times of low inspiration, many designers and real estate brokers have turned to using such a basic idea to create logos. If you sick of figuring out novel methods to include structures in your real estate logo ideas? Switch gears and experiment with your company name instead.
The most successful real estate companies typically have a proven track record, a vast array of resources, and a wealth of knowledge that, when combined, simplify the buying process for the buyer. Due to this, many real estate businesses build their brand using a formal strategy and are increasingly depending on a powerful logo to serve as the foundation for their brand identity.
Why are Real Estate Logos Important
Why are we discussing building a brand in an article about real estate logos? Your logo is a visual representation of any business, making it the most distinctive and instantly recognizable element of your marketing plan.
What comes to mind first when you think of some of the most recognizable brands in the world? Coca-Cola, Disney, Amazon, Tesla, perhaps? It's safe to assume that your mind moved to the respective logo of each company.
For better or worse, those companies' visual branding is emotionally potent, and no company could ever copy any of their design elements without receiving a lot of flak.
These trends and consumer patterns do not exclude real estate. Therefore, having the perfect logo may help you stand out and keep you top of mind with prospective clients, whether you are just starting to gain your bearings in the real estate business or think it's time for a brand makeover.
What Makes a Great Real Estate Business Logo Design?
Real estate logos differ slightly from those of other businesses, particularly in terms of the formality that is frequently employed.
Here are seven suggestions for creating a beautiful logo to get you started.
Use a Logo Maker to Learn What You Like
Go for it if you have the creative skills to make your own logo or the money to pay a designer. You can try a logo editor when creating your logo. Otherwise, your best option is to use a logo maker that offers you many alternatives to choose the one that best represents your brand and company.
All Time Design is a great place to start. Following a series of inquiries about your real estate business and style preferences, your assigned graphic designer works with you to deliver preferred real estate logo design options.
Choose your fonts for hours
Although many believe a font is a font, this couldn't be further from the truth.
Typography, or the study and application of type design, is an independent artistic field. However, some of the most skilled graphic designers in the world specialize in type.
Even though your graphic designer is likely an expert in typefaces, it might still take hours to try out different fonts and see which works best. You can take the time to look up the typefaces you prefer online first before they do.
Not all real estate logos require images. Fonts can do the magic.
Simple Better than Complex
Your customers will get a message from good design. A great logo conveys to your customers a message that they understand immediately.
That typically suggests that a simple idea is preferable to a complex one. It will not only make it simpler for you to communicate your ideas but also make your logo seem excellent at all scales.
The real estate agent logos used by several well-known brands are all relatively straightforward. The explanation is that a simple logo is simpler to use across various media and sizes. In addition, compared to a logo that employs a variety of forms, colors, and fonts, it is also simpler to recognize.
Ensure that your logo functions in all sizes
Not everyone will find your logo attractive because it looks excellent in Adobe Illustrator. How does it seem on mobile devices? How does it appear on a contract when printed? An organization card? How about adjacent to other real estate logos?
This is relatively simple to test. First, have your designer create a mockup of your logo in various settings and sizes. The most significant one can be among ten other real estate logos for brokerages that operate in your neighborhood on a page.
Check Out Your Logo's Design Against Your Competitors Before Making a Decision
Know how your own logo compares to your competitors before choosing it. As a result, you must collect the real estate logos of your rivals and place your own alongside them.
What would a buyer or seller believe about your company based only on your logo? Does it appear on par with, superior to, or inferior to the rivals?
Talent Borrows, Genius Steals
There's a reason why this adage is cliche. It is wise to take liberal business inspiration from well-known real estate industry logos. Yes, a special and unique logo may stand out from the crowd, but will it do so favorably?
Ensure that Your Logo Resembles a Real Estate Logo
Your prospective clients should be able to recognize your logo and infer that you are a real estate agent with just a quick guess or two. Some real estate logos resemble law firms, while others resemble heavy metal bands, sports teams, fashion labels, and more. How does yours appear?
Conveys the Right Mood
The appropriate tone should be conveyed by real estate logos. Aim for more opulent and luxurious logos if you specialize in marketing luxury homes. Modern-feeling logos will work better for your real estate company if you choose to market urban, contemporary residences. Check out some vintage logo design ideas.
Best Real Estate Logos Practices
In creating the best real estate logos, logo designs need to obey certain practices.
Color
Depending on the properties you work with, some colors will perform better for your real estate logo than others. For example, high-end markets are best served by black and white, while warmer hues like red and yellow foster a cozier atmosphere. Make sure your brand stands out from rivals by choosing colors that reflect the qualities you have to offer. You may develop the ideal color palette for your real estate brand by striking the right balance between client appeal and competitor distinctiveness. Explore some business colors.
Layout
As you design your realtor logo, bear in mind your preferred channels for marketing. This includes business cards, physical signage, and websites for many real estate agents and companies. Choose a clear, well-organized layout for your real estate logo if you want it to look excellent on all these platforms. Create text-only or symbol-only variations of your logo for more flexibility. You'll always appear your finest in all forms of marketing this way.
Typography
Bold, uppercase sans-serif fonts are frequently used in real estate logos to imply strength and reliability. However, choosing your typeface by your clients, surrounding areas, and design preferences would be best. While rounder typefaces tend to be more residential, sharper fonts work well for commercial properties. Whatever font you decide on, make sure it is readable across all sizes and formats, mainly if it will also be used for your contact details.
Fonts and typography may express meaning the same way colors can.
Symbol
The most often used real estate logos are probably the ones that depict your company's office building and key. These two images convey what your company offers but aren't your only alternatives. Your real estate logo can stand out by including abstract and animal symbols, which are also an excellent fit. Look for symbols that convey your listings' style and feel while enhancing the other design elements. You'll have a logo that can expand with your company if both options are checked.
Special Features
Are you looking to give your logo some curb appeal? Test out stacked text. You increase visual impact at a look by spreading out your business name across numerous stories. Try font and color combinations for even more visual intrigue around the name of your brand. You can highlight various aspects of your company by contrasting your name's fonts and colors. Use the font pair option to overlap your text for a more upscale appearance. The overlapping text adds refinement, which is ideal for modern luxury real estate. You'll be prepared to advertise your real estate logo once you've added a few unique elements.
Inspirational Real Estate Industry Logos
What you do and who you are should be reflected in your logo. Agents frequently inquire, "Do I actually need a logo of my own? Isn't the logo for my business enough?"
Real estate is a very individualized industry. The reputation of your business is important, but ultimately, clients are the ones hiring you. As a result, you are both the "brand" and the company that needs marketing.
Even though a talented graphic designer is a crucial member of your real estate branding and marketing team, it might be useful to acquire an idea of the kinds of designs that appeal to you. Prior to sharing your ideas, you need also be aware of current business trends.
You cannot create real estate logos that stand out by accident. They demand talent, knowledge, insight, and a great deal of inspiration.
Certain logo trends are cross-industry. If you want to look trendy, pick one of these logo styles: vintage writing, logo badges, and line art. If they match your brand identity, they may have a greater impact. For a company mortgage broker, a historical logo might not be ideal, but it might be ideal for a real estate firm that specializes in historic homes.
To aid you, we've put together a list of the best real estate logos, both classic and contemporary, to spark your imagination. Get inspired by top modern logo design ideas.
House of Hawley
House of Hawley exudes luxury and style in all it does, and this sense of style is reflected in its logo.
The elaborate front gates convey the grandeur and high-class lifestyle perfectly.
Ogden Valley
Ogden Valley Real Estate, located in Eden, Utah, wants to honor the magnificent mountains nearby.
The architect earns credit for his or her inventiveness in incorporating the mountain peaks into the rooftops.
Godfather Properties LLC
Similar to the company name, the colors of this logo exude power, luxury, and authority.
This business succeeded in putting a fresh spin on the iconic "house" image while paying honor to the beloved movie that served as its inspiration.
Michael Gourkani
Similar to the aforementioned illustration, Michael Gourkani was able to put a fresh spin on the traditional key.
The elegant color choice appeals to the group's wealthy clientele who are wanting to buy and sell multi-million dollar luxury homes.
Compass
Compass built its brand internally because, in contrast to many other brokerages, they saw it as a crucial component of their early success.
This logo's value and usefulness lie in its simplicity. Sometimes keeping things simple is the best course of action.
Christina Teahan
Speaking of compasses, Christina Teahan, a Compass agent, discovered a method to combine her own style with the positioning of her brokerage's brand.
The positioning of the letters nicely complements the design, and the compass feature adds a sophisticated touch to her agency.
Ellen Mazzoni
Another Compass agent, Ellen Mazzoni chose a straightforward yet potent logo design.
Not only does her brand stand out on its own, but it also looks fantastic next to her broker's.
Cobalt Residential
The logo for this residential building construction company is as reliable as its construction work.
The solid, substantial lines aid in conveying the firm's commitment to excellence and the colors balance simplicity and refinement.
One Street
This art deco style is elegant, timeless, and pleasing to the eye.
The "N" is reversed and is whimsical without being naive.
The Peach Team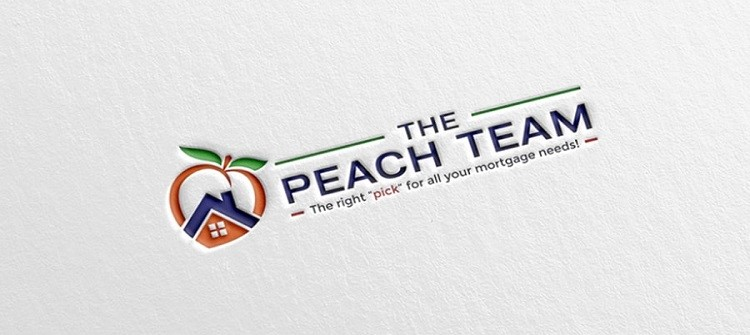 This mortgage service business used a smart slogan that played off the name of the company to get a genuinely unique real estate logo.
It's distinctive! It's imaginative and amusing how the peach was incorporated into the house design.
Hilton and Hyland
The most prestigious brokerage in Beverly Hills should have a distinguished-looking logo, and Hilton and Hyland do not fall short.
The distinctive black and white pattern grabs your attention and won't let go!
Luxury real estate agents are aware of the importance of real estate branding. They are also aware that money must be spent in order to make money.
The historic Goldstein home designed by Joyn Lautner was used by the graphic designer to present a relatively new business as a representation of wealth and elegance.
Denver Real Estate Professionals
This industry understands how to grab your attention—real estate, mortgages, and construction business!
One can't stop marveling at the simple yet eye-catching color palette of this design.
Nicholas Property Group
Nicholas Property Group depends on tracking (the horizontal space between the letters) rather than relying on images to express its brand, and they do it brilliantly.
The font selection and tracking are sleek, making it an elegant logo.
North
This unique style is ideal for a New York City artist's loft building turned into a new condo development.
The layout and colors scream original and inventive.
Rooster Real Estate Group
There are more than a Rooster realtor business, but none have produced a design as eye-catching as this one.
We are amused by the fact that it is a rooster rather than a home or a key.
Michael Beeman
This Re/Max Town and Country agent is skilled at leveraging his reputation.
Michael's logo, which was inspired by the way his name is spelled, features a bee, and his tagline continues the motif.
The Habibi Group
This modern design jumps out and is noticeable. Once your eyes are relaxed, the brand mark will appear to have a three-dimensional H.
This logo almost resembles an eye checkup.
Speaking of eye exams, the GPS that supports the Keller Williams brand is highlighted in the logo's bright, contemporary design.
The font-weight shift is pleasantly subtly done, and it is simple and elegant.
When a talented designer is in tune with their customer, this is what happens. Serendipity in the design world is rarely a coincidence. It results from perseverance, talent, and clear lines of communication.
The Ivan Sher Group
The Ivan Sher group's logo effectively portrays the luxury and quality that Las Vegas real estate has to offer.
The graphic design is understated but stunning. In contrast to the background, the white lettering stands out.
Nourmand & Associates
For more than 40 years, Nourmand has offered buyers in California top-notch services. Its logo is both retro and enduring.
Everything about it is different, including the font, layout, and colors. When done tastefully, being different is beneficial.
Julian Pilarski
Although the design is beautiful, the brand mark is robust enough to stand alone.
The monogram's design is tasteful, original, and appealing.
Gregg Lynn
Gregg Lynn uses grace and simplicity in their art deco-inspired logo to symbolize contemporary luxury real estate.
This adaptable logo looks fine with the logo layered on top and beside it.
Warburg Realty
With 125 years of experience, this upscale firm has learned how to endure. By including the founding year, it is demonstrated that Warburg has existed eternally and will continue to do so.
The use of the classical font on a transparent background is the ideal tribute to the group's earlier days.
Excellent typography, a straightforward but potent brand mark, and the cherry on top, "ESTD 1896," which emphasizes their longstanding involvement with New York City real estate.
Red Oak Realty
2018 saw a rebranding for Red Oak Realty in East Bay, California, with captivating hues that grab your attention and won't let go.
The color selection sticks out and conveys the group's joyful and quirky personality.
North Stream
This distinctive logo's clean lines and simplicity offer a welcome change from conventional elements.
The "S" that resembles a musical instrument expresses the company's character.
Abbott Row
This logo's clarity and simplicity properly convey the image of the condo complex in Washington, DC that it was designed to promote.
Although the design doesn't explicitly depict any buildings, the vertical lines nicely convey condos.
BRM
Two date trees are used in this logo as a method to draw attention. Invoking thoughts of friendship is the color blue, whereas strength and authority are symbolized by the color black. Although it is quite uncommon, a tree motif in a real estate logo design suggests a future trend.
Halycon
Halcyon Home Loans needed a straightforward logo with a modern look because they provide financial services to the real estate and mortgage industries. Creatively, the designer used the letter H from the company name to create the logo. The designer simply put the brand in house-like shape.
Sunrise
Sunrise is a real estate agency. The hues of yellow and red inspire sentiments of growth and hope. Due to the company name, these colors on the logo are also present in the design.
The Corcoran Group
The Corcoran Group in Manhattan is unmatched in terms of elegance and prestige. The company was established in the 1980s by real estate heiress Barbara Corcoran, and its logo serves as the only absolute standard for graphic design.
A fantastic Manhattan luxury real estate company would undoubtedly employ that font. Okay, no. Of course not. The branding firm And Partners put a lot of effort into making this logo appear simple. Any new agents out there would do well to learn from this.
Meadows
Take note of how the logo's line art functions. In order to create the letters of the firm name look uniform, the designer used the curvature of the grass as a hint. The hand-lettered art and green color of this company's logo stand out.
Final Thoughts
Your real estate business cannot attract potential clients without getting your own logo to stand out among others. Most importantly, stand out uniquely for quality branding.
Are You Seeking a Real Estate Logo Design? Numerous business owners from over the world have entrusted ATD with their design requirements, including those for banners, social media posts, websites, logos, and more.
Create your own real estate logo by signing up to All Time Design. It is best to leave your realtor logo to professionals. Logo designs tell a lot about your business.
All Time Design offers unlimited use once payment is done for the purchase period. This is definitely a plus to create and rework on your real estate logos. With top-notch tools like adobe illustrator, corel draw, and others, you are guaranteed to get your money's worth.
Trust your logo ideas and design with All Time Design today!
---

August 6, 2022
10 min read
7 reads
---
Impress your customers with cutting-edge graphics!
---