How to Design an Advertisement Poster: A Walkthrough
A poster can contain whatever you desire; however, the majority are made for advertising purposes for a brand or company.
Advertising poster design is still one of the most popular and effective marketing methods despite advertisements becoming high-tech in recent years. Whether opening a cafe, organizing a music festival for your university, or promoting your beauty parlor, good posters always work best for your advertisement. Though advertising poster design requires professional designers, you can also design a poster on your own. You need a free online tool to do that.
You can create your poster in a matter of minutes with a free online poster maker. You are aware that sometimes words are insufficient if you have chosen to produce a poster to sell your good or service. To make a statement more impactful, increase interest, or heighten the anticipation of an upcoming event, striking graphics are necessary. However, designing an advertisement poster is daunting, especially if you do not have a professional graphic designer background.
There are nonetheless poster design best practices that you should adhere to even though there is no one correct approach when you want to create posters.
As a result, we decided to create the most comprehensive advertisement poster design guide available. You've come to the right place if you want to learn how to create a poster from scratch.
Almost every poster you create can benefit from these advertisement poster design tips. So let's begin, then!
Advertising Poster Design Best Practices
These are the best tips to guide you when you start creating your own advertisement poster.
Define the Goal of Your Poster
Want to let someone know about a new product? Want to inform them about a concert taking place nearby? Or inform them that a sale is going to be held soon? These are all objectives that a poster design can aid you in achieving.
You can utilize that goal to direct your design decisions if you start by considering your significant objectives.
If the objective of your poster, for instance, is to encourage people to attend a conference, it should be deliberately constructed to support this objective. Simplicity always triumphs in written communication, according to a common rule.
Check out the conference poster below:
The poster's layout highlights the essential details that visitors need to be aware of and has a polished, businesslike appearance:
The yellow stands out against the blue, emphasizing the event's date, location, and guest speakers (information likely to pique attendees' interest ).
The most significant text also includes the name of the meeting.
A short description of the conference's topic is included after the title.
The notion of a group coming together to realize a vision is reflected in the background image.
Now look at this advertisement poster for recruitment:
This poster's objective is to inform qualified candidates of the open position. Additionally, encourage them to phone that number to apply to the business:
This poster's "We're Hiring" title is more significant than any other text and is surrounded by an eye-catching image.
So that readers can immediately determine whether the posting relates to them, the open positions are listed after.
A distinct color is used to draw attention to the call to action to dial that number.
The next part provides concise answers to many job seekers' most common queries.
Create a goal at the outset and center your poster design around it.
Consider the Target Audience
Maybe your ideas for advertisement poster design are the best. The desires of your target audience, though, are what matters.
Next, you should think about the audience your poster design is meant to attract. How you respond to this question will likely greatly influence your design decisions.
Consider the following as an example for advertising a fundraiser for the arts:
The design, color palette, and layout appear pretty polished. They are likely attempting to draw in an older, more established demographic. one who is wealthy enough to contribute to their cause in addition to blowing money on a charity dinner.
Now contrast it with this advertisement for a charity Color Run:
With its vibrant colors and bold fonts—two of the hottest trends in graphic design this year—this poster targets a much younger demographic. Additionally, it seems more like a party than fundraising!
Both are fundraising event posters; however, each poster is attempting to attract a different audience.
Let's say you want to advertise guitar instruction in music classrooms, using the sample below:
The layout, different fonts, color scheme, and general design are all flawlessly coordinated. In addition, they choose to feature an image of an acoustic guitar because most of their classes are instruction in classical and acoustic guitar. The whole aesthetic also lends attractiveness to pop songs.
The following poster should be compared to the one above:
This poster draws ballet enthusiasts thanks to the ideal background image and simple style.
Although they are both advertising posters for separate lessons, the target demographic for each poster varies. Make sure to thoroughly understand your target audience before starting the poster design process.
Choose a Relevant Color Palette
One of the most critical components of any advertisement poster design is color. Nothing else can create the atmosphere for your poster, draw people in, and inspire them to take action. According to a study, colors can account for up to 90% of a first impression, and 84% of consumers cite color as their top consideration when making a purchase. Therefore, you cannot make any color compromises when designing posters.
Using a brand's color palette when selecting colors is good, but you should also consider your options strategically. Use intense hues of yellow and red to excite your brand and grab attention. Green, blue, and purple hues give your design stability, professionalism, refinement, and tranquillity. Using white and black contrasts in combination is a terrific approach to convey sophistication.
For instance, multiple red, yellow, and orange shades, as seen in the advertisement poster template below, can be used to create a flaming design and accentuate the call-to-actions using color.
The design team used greens, oranges, yellows, and reds for all the other design elements, including the fonts, to showcase one of the restaurant's best pasta dishes.
Use Fonts Carefully
To get the best advertising poster design, it is critical first to define the purpose. However, the reason for the poster design largely depends on the message you want to deliver. As a result, you may want to give your typography a lot of care.
Your poster design dramatically depends on the typeface you use. In addition, it would be wise to concentrate on the text's structure to establish a typographic hierarchy that will draw attention to your most crucial details.
Ensure that everyone is focused on the text you wish to display. Make sure the headlines are contextual and use bolder fonts. Limit the number of fonts used in one advertisement poster design to three.
But instead of worrying too much about the poster design, we advise you to concentrate on your plan. By altering the fonts' color and size, you may make the design visually appealing, even if you use a single font.
Incorporate High-Quality Images and Stock Photos
If you've been paying attention, you might have noticed that the templates and examples in this post extensively use images.
Relevant and high-quality images have long been a standard for poster design. But, surprisingly, the appropriate photos can provide your design with a significant visual appeal boost. According to statistics, the text is processed by the human brain 60,000 times slower than images. In addition, an MIT study demonstrates that the human brain stores a picture in memory in just 13 milliseconds.
So, to engage your audience with the poster and persuade them to read the information therein, you must select high-quality and pertinent photos. Use images that will help your photo and text flow together. Additionally, it's a brilliant idea to use an image as the centerpiece and then encircle it with additional design elements.
Unsplash and Pexels are excellent resources for finding stunning, free, and premium images for your poster.
Decide Where You Want to Share Your Poster
Will you get it printed out and hung on the wall? Or post it to your social media followers?
Before you begin the design process, it's crucial to choose the location where your poster will be displayed. This is because, as you will see below, correctly optimizing a poster for print differs somewhat from doing so for Twitter or Facebook.
Optimize your poster for print
You presumably already know where you plan to distribute your poster. Making design options based on where you plan to pin it up can be helpful.
There are several fundamental rules you should adhere to if you wish to print your poster. Check out some finest poster design ideas.
Visualize where you will pin up your poster
Print your poster larger if it will be hung on a wall with other design posters so it will stand out:
However, if it's going on a mostly empty wall, print it in a smaller size and hang up several of them to make a more significant impression, like the simple poster design below:
Optimize your poster for social media
When creating a poster for a website rather than print, there are fewer restrictions. Therefore, this is an excellent chance to incorporate something delightful into your design. You should still adhere to some rules, though.
Size your poster for the social media platform you're promoting it on if you want it to appear great there. For various platforms, you might wish to create a few distinct copies of your poster.
Always remember that a square or portrait orientation looks best for mobile viewing. This is because, on mobile devices, users are accustomed to scrolling up and down rather than side to side.
The optimal measurements for each of the major social media networks are as follows:
Facebook: 1200 x 628, or 1200 x 1200 for square
Instagram: 1080 x 1080, or 1080 x 1350 for portrait
Pinterest: Here, there is more room for length, but aim for a ratio of 2:3 to 1:3.5.
Twitter: 1024 x 512
How To Design An Advertisement Poster Using Free Online Editor and Poster Maker
You have now reached the design section, where we will show you how to create an advertisement poster using a free poster maker.
Step 1: Pick An Advertising Poster Design Template
Once you sign-up for these free options of poster makers in the market today, you will land on the all templates page, where they have divided all their poster templates into different Document Types. Type Poster in the search box and click on the results as shown below to find a suitable template.
Select the category for Advertising in the poster template list.
Select the template you want by clicking "Select." Give the template a name and a short description.
Step 2: Customize The Template
Customization is the section of your design where you use the online editor to add magic to your creation. For example, you can personalize a template for an advertisement poster in various ways. Change backgrounds, add your text, add new elements, add your own photos, and more.
One online tool that stands out is the DocHipo poster maker.
Set Background
For example, a DocHipo online editor can set background with just a few clicks.
Customize the background for your design by selecting the "Background" tab from the "Graphics and Media" section of the left sidebar.
Add Your Images
Select the "Pictures" option from the left sidebar to include pertinent images in the template.
You can also upload images from your computer by clicking the "Uploads" button and selecting Upload Images.
Add, Edit, Or Delete Text
Select the "Text" tab from the left panel to include text in your design.
To add your own text, double-click the text you wish to change in the template.
Now, use the edit panel to explore more features to alter the text's font style, color, opacity, spacing, border, and other attributes.
You can add your company logo or business brand details here.
Add and Customize Other Elements
Use the sidebar to select more design elements to add, such as icons, pictures, shapes, and lines.
Additionally, you can change the elements' appearance in various ways, including by resizing, rotating, relocating, and altering their color. The edit panel on top is activated when you choose any piece on the template you are modifying. You can take all the actions above with its assistance.
Step 3: Download Your Advertising Poster Design
To download your design, click the three dots and choose "download" from the drop-down menu.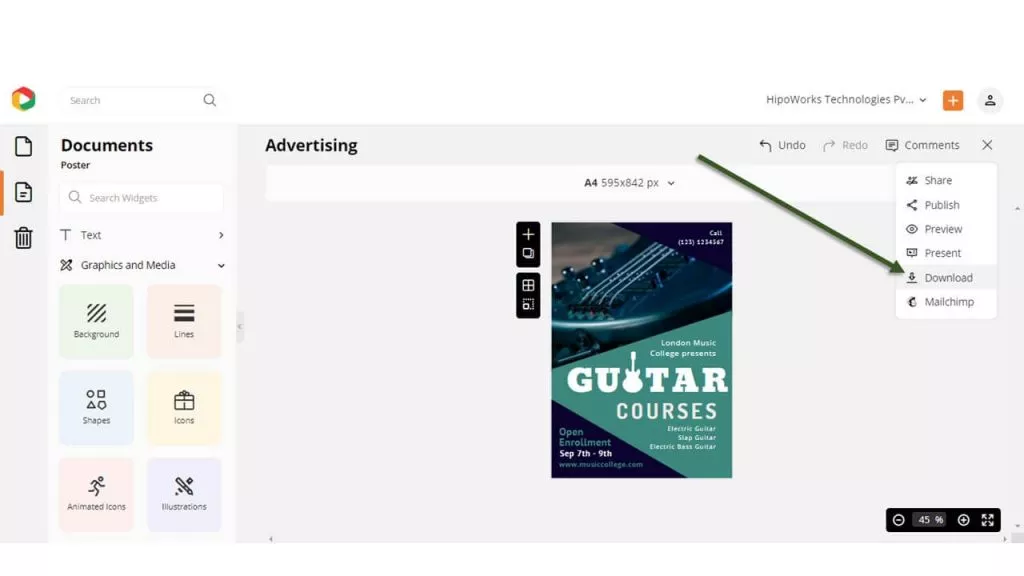 Click the download button after selecting the file type and quality you need (high-quality download is recommended for printable document kinds like posters).
Free Advertisement Poster Templates and Ideas
You can get a free poster maker via the web quickly. Asides from DocHipo, there are others such as Adobe Creative Cloud Express, PosterMyWall, Fotor Free poster maker, Templates.Net Editable advertisement posters, etc.
The internet solutions we described are perfect when you're in a rush or don't have access to your editing software. But if you want to personalize your posters, which is what you probably want to do, then this area is for you.
There is something for any project because we looked for exquisitely created free templates for sales, design firms, recruiting, employment, product advertisements, vehicle sales, real estate, restaurants, event posters, and more.
You are required to have at least little design skills to be able to edit professionally designed templates without altering the quality.
Free Cyber Monday Big Sale Advertising Poster Template
World Ocean Day Free Advertising poster template
Free Delivery Service Advertising Poster Template
Creative Fashion Design Free Advertising Poster Template
Job Recruitment Free Advertisement Poster template
Travelling Agency Free Advertisement Poster Template
Night Club Party Free Event Poster
Creative Free Advertising Event Poster Templates
Special Pizza Day Poster Template Freebie
Download and Design Eye-catching Advertising Poster Templates with All Time Design
The advertisement posters listed above will give you inspiration and ideas, but does it end there? No! You can be inspired with zero design skills to help create advertising posters for your business or company.
Creating your own poster templates can be a lot of work, especially if you have poor or no knowledge of graphic design.
All Time Design will help you design amazing posters with the aid of its experienced assigned graphic designer for your advertisement poster templates.
You will get your money's worth with years of experience designing for top brands.
Sign up today, and a free 21-day trial awaits you to test out All Time Design and its unique difference from other designers.
---

October 6, 2022
10 min read
37 reads
---
Impress your customers with cutting-edge graphics!
---